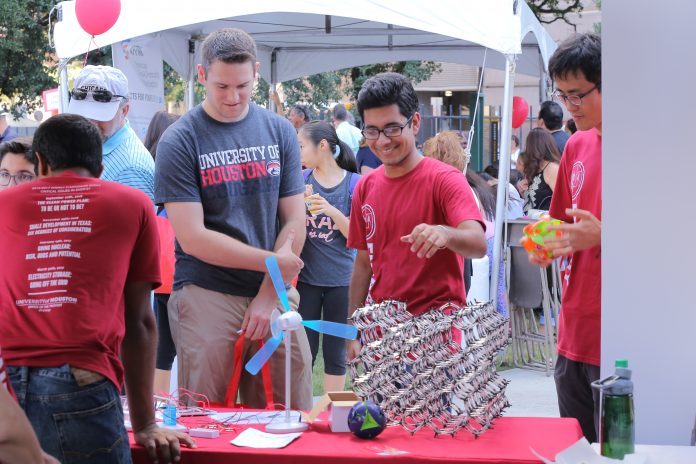 HOUSTON — Consumer Energy Alliance (CEA) and Consumer Energy Education Foundation (CEEF) will donate $10,000 to help Houston-area classrooms rebuild following Hurricane Harvey during the 7th annual Energy Day Festival, on Saturday, Oct. 21, from 11 a.m. to 4 p.m., at Sam Houston Park, 1000 Bagby St., in downtown Houston.
Energy Day, a free event geared towards students of all ages, will continue its tradition of connecting industry employers to their future workforce by showcasing exciting state-of-the-art technologies and innovations that only those equipped with classroom skills in science, technology, engineering and mathematics (STEM) can fulfill.
"Energy Day has a proud history of showing families and teachers in Houston how much fun it is to learn the skills needed to innovate and expand upon safe, responsible ways to develop energy, advanced technologies and continue research in fossil fuels, nuclear and renewable energy development," CEA President and event organizer David Holt said. "And we are excited to announce that as part of this year's festivities, Energy Day will take time to recognize and provide financial support to local schools, children, and teachers impacted by the historic Hurricane Harvey."
In addition to awarding nearly $17,000 to more than 145 students and teachers during the Energy Day Award Ceremony, CEA and CEEF will take a moment to pause and present a check for $10,000, to be divided up amongst three schools hit hard by the hurricane in the Pasadena Independent School District.
Energy Day comes at a time when the energy and manufacturing sectors continue to face a shortage of workers equipped with STEM-related skills, as evidenced by the U.S. ranking 38th out of 71 countries in math scores and 24th in science, according to recent international testing results. According to Pew, only 29 percent of Americans rated U.S. STEM education above average for K-12 as recently as 2015.
"Americans know the importance of STEM, and they know our country needs to improve how it's being taught," Holt said. "Houston is not only the nation's energy capital; it must be the STEM capital too. Our energy sector continues to lead the way in cutting costs and providing important opportunities for families and communities by improving global competitiveness, diversifying our fuel supply and improving the environment, and that can't continue unless we strive to attract more students to STEM."
With more than 50 interactive exhibits and demonstrations from many of Houston's leading companies – including Phillips 66, Telemundo Houston, Noble Energy, Golden Pass LNG, Caterpillar, Direct Energy, University of Houston, Anadarko, ConocoPhillips, Chevron, TransCanada, Statoil, BHP Billiton and SHALE Magazine – each exhibit is designed to spark interest in STEM by highlighting ongoing advancements in energy and various high-tech careers. Exhibits include air cannons, catapults, hydro-blasters, and Solar Ovens which roast marshmallows without fire. The outdoor festival will also feature food, music, games, contests and more.
This year, Energy Day will host a new contest for teachers, where educators can submit lesson plans based on a STEM concept they saw implemented at Energy Day. The top three lesson plans will be awarded gift cards for their efforts to create new unique ways to get children excited about STEM in the classroom.
Since the Energy Day Academic Program began in 2011, CEA and CEEF have awarded nearly $100,000 to more than 670 K-12 teachers and students.
Transportation to Energy Day will be provided free of charge to the event from several Houston area school districts. To learn more about Energy Day and its accompanying 2017 Energy Day Academic Program, visit https://energydayfestival.org/houston/.
###
About Consumer Energy Alliance
Consumer Energy Alliance (CEA) brings together consumers, farmers, small businesses, producers, and manufacturers to engage in a meaningful dialogue about America's energy future. With more than 400,000 members nationwide, our mission is to help ensure stable prices and energy security for households across the country. We believe energy development is something that touches everyone in our nation, and thus it is necessary for all consumers to actively engage in the conversation about how we develop and diversify our energy resources and energy's importance to the economy. CEA promotes a thoughtful dialogue to help produce our abundant energy supply, and balance our energy needs with our nation's environmental and conservation goals. Learn more at ConsumerEnergyAlliance.org.
About Consumer Energy Education Foundation
The Consumer Energy Education Foundation (CEEF) is a designated charitable organization under Section 501(c)(3) of the Internal Revenue Code, organized exclusively for charitable and educational purposes. CEEF's objective is to provide outreach and educational support materials, events, activities, resources, and information about career opportunities in STEM and energy fields and the importance of energy, conservation, and efficiency in our daily lives.
Contact:
Emily Haggstrom
P: 720-582-0242
ehaggstrom@consumerenergyalliance.org