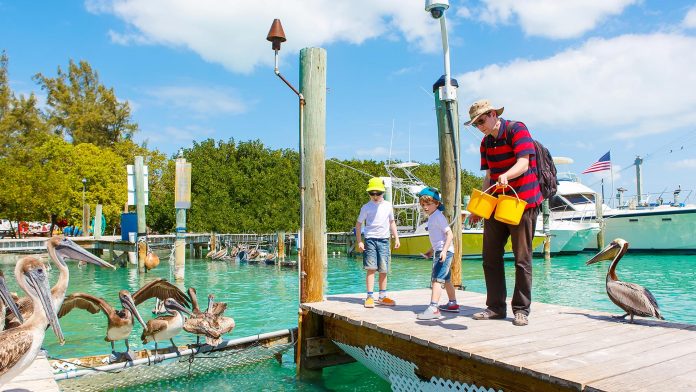 Tallahassee, FL – A new poll released today by Consumer Energy Alliance (CEA) and the Florida State Hispanic Chamber of Commerce finds overwhelming support from Floridians for a balanced approach to energy.
Conducted by MWR Strategies, the poll of 1,005 likely Florida voters shows that 78 percent of Sunshine State residents say that energy will be an issue of importance when they vote on Election Day, with more than 90 percent of Floridians agreeing that both affordable and reliable energy along with clean air and water are important for the state's families and businesses.
The poll also finds that 75 percent of Florida voters believe that a balanced fuel mix which includes renewables, natural gas, and nuclear is important to help keep electricity affordable and reliable. In addition, the vast majority of Florida voters – 61 percent – would prefer allowing for some exploration and production of energy in the Eastern Gulf of Mexico over a prohibition.
"The poll results show that Floridians overwhelmingly embrace balanced approaches to energy, and recognize that families and businesses in the state will benefit the most when policymakers come together to support both energy and the environment," CEA Florida Executive Director Kevin Doyle said.  "Despite efforts being made by anti-development activists who are pushing for a "Just Say NO!" approach to energy, more Floridians are speaking up loudly and clearly to reject such short-sighted campaigns and instead opting to support efforts to find solutions that will protect families, households, and small businesses across Florida."
"I'm a firm proponent of a balanced energy supply, which encompasses an "all of the above" approach. The results of this poll demonstrate that Floridians understand the important role that energy plays in Florida's economy," said Julio Fuentes, President, and CEO of the Florida State Hispanic Chamber of Commerce.
With Election Day just four days away, the poll also finds that Florida's gubernatorial and U.S. Senate contests are neck-and-neck. In the race for Governor, Democrat Andrew Gillum leads Republican Ron DeSantis 41 percent to 40 percent, with 18 percent undecided/refused to answer. In the race for U.S. Senate, Republican challenger Rick Scott leads incumbent Democrat Bill Nelson 43 percent to 41 percent, with 16 percent undecided/refused to answer.
The polling memo, topline results and crosstabs can be found at the following links.
The poll has a margin of error of 3.1 percent.
Methodology: MWR Strategies conducted the poll for Consumer Energy Alliance and the Florida State Hispanic Chamber of Commerce. 1,005 likely Florida voters were surveyed via landline or cell phone between October 25 and October 31. The poll carries a 3.1% margin of error.
About Florida State Hispanic Chamber of Commerce
The Florida State Hispanic Chamber of Commerce actively promotes the economic growth and development of Hispanic entrepreneurs and represents the interests of over 604,000 Hispanic-owned businesses across the state that together contribute in excess of $90 billion to Florida's economy each year.
About Consumer Energy Alliance
Consumer Energy Alliance (CEA) brings together families, farmers, small businesses, distributors, producers and manufacturers to support America's energy future. With more than 500,000 members nationwide, our mission is to help ensure stable prices and energy security for households across the country. We believe energy development is something that touches everyone in our nation, and thus it is necessary for all of us to actively engage in the conversation about how we develop our diverse energy resources and energy's importance to the economy.
Media Contact:
Emily Haggstrom
P: 720-582-0242
ehaggstrom@consumerenergyalliance.org