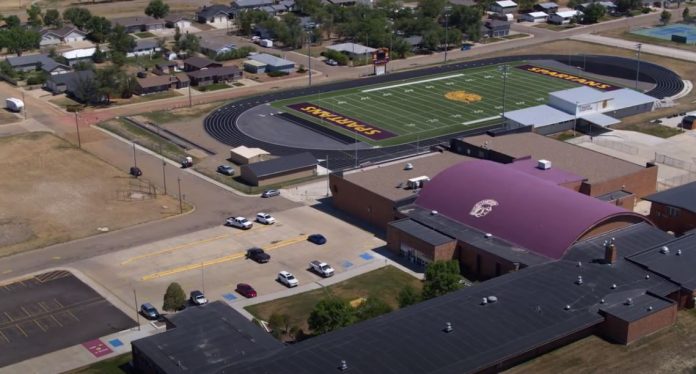 The town of Baker, Montana, located near the border in the eastern part of the state, is home to just over 1800 people. It was founded in the early 1900s to support the transcontinental Milwaukee Railroad, and eventually attracted homesteaders looking to plant and raise cows -laying the foundation for its agrarian heritage. In 1912, oil and gas reserves were discovered in the area and the town grew. Since then, the agriculture and energy industries have been mainstays of the area—each keeping the town afloat during downturns in one industry or the other.
Due to the geology of this area of Montana, a complex pipeline infrastructure has evolved to carry energy to consumers all over the country. In fact, in Montana, there are about 15,618 miles of oil and gas pipeline in the ground—providing reliable tax revenue for local and county governments. In 2006 and 2007, over $600,000 funneled down to the city from oil and gas each year. These pipelines are not just transporting oil—they are helping to cut carbon. The Denbury Cedar Creek Anticline complex is carrying CO2 from nearby oilfields used in other operations that enable carbon to be permanently stored beneath the ground instead of injected into our atmosphere, drastically cutting greenhouse emissions.
With each new project comes an influx of service workers to the rural town—buying goods from Baker's small businesses and dining in restaurants on Main Street. It takes 500 workers to build 100 miles of pipeline, according to the Association of Oil Pipelines (AOPL). Even after the construction is finished, many of these workers stick around for years after the pipeline is in service.
In fact, second to the local hospital, the main employers in town are oil and gas companies and companies servicing the energy operations. The infrastructure built by energy companies to support their workforce also typically remains permanent features in the town—providing backup water supply during seasons of drought, or additional recreational housing like the RV park on the nearby lake, originally constructed to house pipeline workers.
The presence of industries, like energy, has helped bring rural economic development and other benefits that small towns don't often get to experience.
Mayor, Steve Zachmann, talked firsthand about how the energy industry, specifically oil and gas, has supported the small town for decades—attracting high-quality teachers to a tiny corner of Montana, enabling young families to return home to raise their kids, and supplying the city with much-needed water infrastructure during hard times—especially this year's historic drought season.
Steve Zachmann, the newly appointed Mayor of Baker and second-generation eastern-Montanan, grew up in the carpentry and construction business in the town. He spoke of times when the homebuilding market was down, the oil and gas development in the area provided an opportunity for his family business to stay in operations, pouring concrete and building structures for the industry. While the ranch lifestyle and ag industry continue as a critical piece of the local economy and southeast Montana's heritage, many ranch families are able to sustain their family operations during downtimes thanks to oil and gas production on their property. The town is also home to a 150 MW wind farm and there will soon be an 1100-acre solar farm nearby in Fallon County.
The superintendent of Baker High School Aaron Skogen also spoke about how the complex pipeline infrastructure and oil and gas industry have enabled the school district to thrive. Aaron is a young father raising his three young children with his wife. He shared how the energy industry has enabled Baker Public Schools to continue as a Class B school, have state-of-the-art facilities like a phenomenal football stadium, one of the best in the state, and importantly, attract high-quality teachers to an otherwise forgotten corner of the state. In fact, with revenues from oil and gas development, the school is able to augment other sources of revenue to support teachers and provide high-quality resources to its students, such as AP courses and technical training, better preparing their students for productive careers ahead.
Importantly, young families like Aaron's are staying in rural towns like Baker, raising their young children and really enjoying it. Whether it's swimming in the Community Recreation Center pool on campus or boating and fishing in the lake, young families are able to have an enjoyable quality of life—an increasingly rare story in today's rural America—thanks to a robust energy industry.