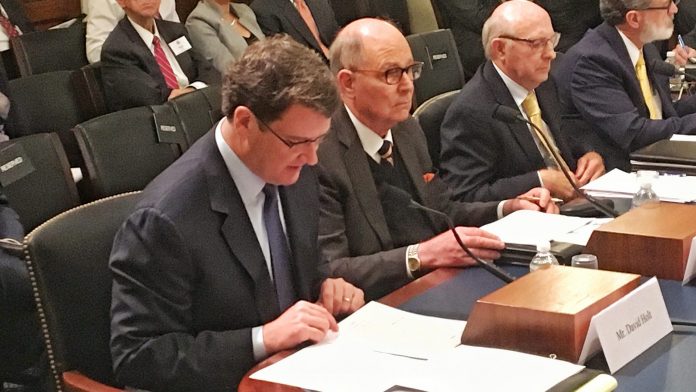 WASHINGTON, D.C.  – Consumer Energy Alliance (CEA) President David Holt today issued the below statement prior to the House Natural Resources Committee markup of a bipartisan energy bill entitled the SECURE American Energy Act (HR 4239). Holt appeared before the committee yesterday to testify on the benefits to families and businesses surrounding the significant increases in safety, technology, and innovation on U.S. federal lands and waters.
"In recent years, we have observed that the dialogue around energy has become increasingly polarized. Instead of Americans having to choose between protecting the environment or meeting our energy needs, our great nation can – and must – do both, and the bipartisan SECURE American Energy Act helps lead us in that direction.
"Everyday citizens – regardless of political affiliation, demographics or socioeconomic background – are profoundly impacted by energy policy. For example, economists consider energy 'affordable' when a household spends roughly six percent of its income on energy uses. Yet, households living below the federal poverty level often spend more than 30 percent of their income on energy.
"Since energy is a key economic driver, we believe that a true all-of-the-above, robust, sensible energy policy will create jobs, improve our economy and support our manufacturing sector.
"We thank Majority Whip Steve Scalise (R-LA), House Natural Resources Committee Chairman Rob Bishop (R-UT), Chairman Paul Gosar (R-AZ), Representatives Henry Cuellar (D-TX) and Vincente González (D-TX), and others, for showing tremendous leadership by introducing the SECURE American Energy Act. As this legislation moves forward in today's markup, we commend the House Natural Resources Committee for leading Congress towards increased jobs, economic growth and energy security for our country."
Click here for full coverage of yesterday hearing:  https://naturalresources.house.gov/calendar/eventsingle.aspx?EventID=403237
Click here for a transcript of CEA's prepared and submitted remarks:
https://consumerenergyalliance.org/2017/11/oral-testimony-cea-president-david-holt-support-secure-american-energy-act/ 
###
About Consumer Energy Alliance
Consumer Energy Alliance (CEA) brings together families, farmers, small businesses, distributors, producers and manufacturers to support America's energy future. With more than 450,000 members nationwide, our mission is to help ensure stable prices and energy security for households across the country. We believe energy development is something that touches everyone in our nation, and thus it is necessary for all of us to actively engage in the conversation about how we develop our diverse energy resources and energy's importance to the economy. Learn more at ConsumerEnergyAlliance.org.
Contact:
Emily Haggstrom
P: 720-582-0242
ehaggstrom@consumerenergyalliance.org