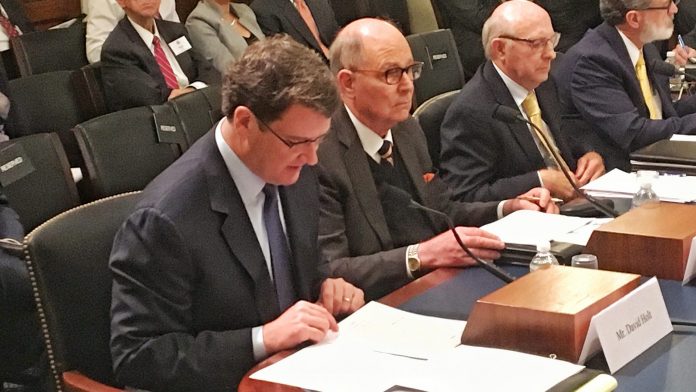 U.S. House Natural Resources Subcommittee on Energy and Mineral Resources
ORAL Testimony of David Holt
President, Consumer Energy Alliance
Chairman Gosar, Ranking Member Lowenthal, and Members of the Subcommittee, it is an honor to be here today on behalf of Consumer Energy Alliance to testify in support of the SECURE American Energy Act (HR 4239) and the benefits to families and businesses surrounding the significant increases in safety, technology, and innovation on US federal lands and waters. I have submitted my Written Testimony for the Record.
We would like to thank Representative Steve Scalise for his leadership on energy issues and this legislative initiative, and for his service and sacrifice to our nation.
CONSUMER ENERGY ALLIANCE
Consumer Energy Alliance is a nationwide non-profit, non-partisan association that represents families and businesses.  We have over 280 affiliate members that represent truckers, farmers, manufacturers and nearly every sector of the U.S. economy, along with more than 450,000 individual members across the country who favor policies promoting affordable & reliable energy and thoughtful environmental stewardship. Throughout our 12 year history, CEA has argued that lower energy prices are vital for economic growth in the US.
FORGOTTEN VOICES
In recent years, we have observed that the dialogue around energy has become increasingly polarized.  Small, yet vocal groups have led protests against energy projects across the country – ranging from transmission lines, onshore energy production, wind projects, pipelines, and offshore energy production.
Our concern is that this discussion has somehow forgotten its most important participants – families and small businesses.  Everyday citizens – regardless of political affiliation, demographics, or socio-economic background – are profoundly impacted by energy policy.
For example, economists consider energy "affordable" when a household spends roughly six percent of its income on energy uses.  Yet, households living below the federal poverty level often spend more than 30 percent of their income on energy.
ENVIRONMENTAL STEWARDSHIP
Across the board, the U.S. energy industry – in coordination and at the behest of governments and under the watchful eye of those of us concerned about our environment – has shown its ability to achieve significant environmental gains. For Example:
Emissions from volatile organic compounds fell 47% between 1990 and 2011.
Net greenhouse gas emissions in 2015 were 11.5% lower than they were in 2005.
ONSHORE ENERGY DEVELOPMENT
Much of onshore energy success today is due to the combination of two long-established technologies — hydraulic fracturing and horizontal drilling – which have transformed onshore oil and shale gas production and contributed to the U.S. Energy Revolution. Onshore production is worth a net of $1,900 per year for households in regions with higher production activity.
TECHNOLOGY
Bright minds across the country are working to improve resource extraction rates while reducing the environmental footprint of onshore exploration and production.   Just a few examples of new innovation include:
A well today takes less than half the time to drill than it did 3 years ago.
Rigs and completion equipment are quieter and safer.
Rigs have fewer emissions because of a new generation of engines,
New sensor technology allows operators to monitor all their wells and production real time.
There is still more to do. Wells are only recovering around 10% of the oil and 15% of the gas in a shale well. Industry research is focused on this to make additional improvements.
OFFSHORE PRODUCTION
With 94 percent of federal waters currently inaccessible, expanding opportunities – in regions like the Gulf of Mexico, Alaska, and the Atlantic – would generate significant economic impacts for families and businesses across the United States, and can be done safely. Nationally, expanded access to areas currently unavailable could create almost 900,000 jobs, $450 billion in new private sector spending, $550 billion in increased economic activity nationwide, and more than $395 billion in increased government revenues.
The federal government and the energy industry have made great strides in improving offshore energy production.  Among these changes are:
The development of more than 100 new and revised standards.
The creation of the Center for Offshore Safety, which works with regulators to create an industry-wide culture of continuous safety improvements.
Real time data of the drilling process is industry standard today and makes drilling more efficient and safer.
REVENUE SHARING
CEA strongly supports revenue-sharing. Across the country, states benefit significantly from revenue generated by domestic energy activity. For Example:
In Louisiana, mineral revenue accounts for up to 15% of the state's revenues.
In New Mexico, oil and natural gas production accounts for 31.5% of the state's General Fund revenue.
Atlantic energy development could generate nearly $2.2 billion in economic activity in Virginia.  This would be enough revenue in one year to cover the $266 million budget shortfall that Virginia experienced in FY 2016.
REDUNDANT REGULATIONS
It is also vital that state, local and federal officials collaborate on prudent regulatory controls.
It is equally important that these officials refrain for excessive, redundant, conflicting, confusing or just-in-time regulations. A duplicative approach has demonstrated that it can have a negative impact on safety and environmental performance.  In that regard, we commend the Trump Administration and Members of Congress for efforts to review and remove regulatory redundancies and develop ways to improve efficiencies.
CONCLUSION
Again, it is an honor to be here today on behalf of CEA, our Board of Directors and members.
I look forward to answering any questions.
A copy of the David Holt's written testimony may be found here.