Traditional Resources in the Gulf of Mexico
The Gulf of Mexico holds an estimated ~48 billion barrels of oil and ~142 trillion cubic feet of undiscovered oil and natural gas,[1] making it a huge source of reliable and affordable energy that powers our modern lives.
If used to generate electricity, the oil alone is enough to power all 128.5 million households in the U.S. for more than two years, based on Energy Information Administration data – and do lots more, too.
Already, the Gulf supplies 15% of the nation's crude oil production, and existing Gulf development generates significant economic benefits to Gulf Coast states. In FY 2019 alone, Gulf of Mexico activity supported 345,498 jobs, over $28 billion in GDP, and $5 billion in government revenue.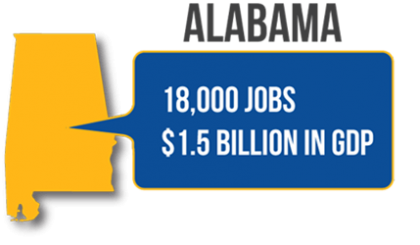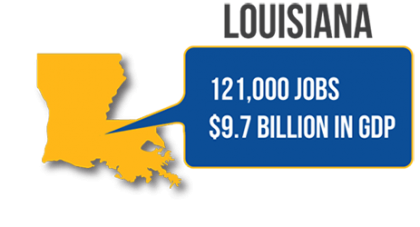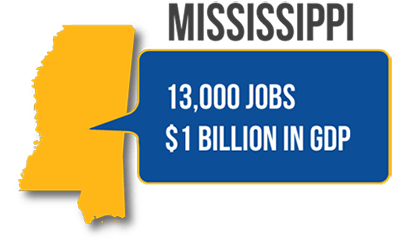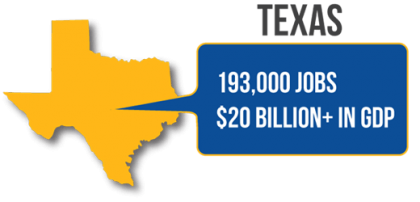 Traditional resources in the Gulf of Mexico don't just help state and local economies, but benefit Americans across the country by funding conservation projects and National Parks.
In Fiscal Year 2020, the Gulf States received almost $249 million for critical coastal conservation, restoration, and hurricane protection projects (In FY 2019, $353 million was distributed)
$900 million in funding for the Land and Water Conservation Fund primarily comes from federal offshore oil and gas leasing
The Gulf offers a funding source for the Great American Outdoors Act benefiting national parks, forests, wildlife refuges, and American Indian schools
It is critical to continue to keep these programs healthy by continuing leasing in existing areas of the Gulf of Mexico.
According to a recent study by National Ocean Industries Association (NOIA), production, employment, GDP and tax revenues from the Gulf of Mexico (GOM) Outer Continental Shelf include the following:
2019: Production of more than 2.3 million barrels of oil equivalent per day
2020-2040: 2.5 million barrels of oil equivalent per day (Forecasted)
2019: 345,000 jobs across the country
2020-2040: 370,000 jobs across the country annually (Forecasted)
2019: $28.7 billion contribution to U.S. GDP
2020-2040: $31.3 billion contribution to GDP annually (Forecasted)
2019: $5.4 billion in tax revenues for the government
2020-2040: $7 billion in tax revenues (excluding income & property taxes) annually (Forecasted)
2019: $353 million in revenues to producing Gulf states, $1 billion to the Land and Water Conservation Fund
2020-2040: $374 million in revenues to producing Gulf states, $1.3 billion each year to the Land and Water Conservation Fund (Forecasted)
Conversely, this same study cautioned that a potential leasing ban would result in:
An initial 20% decrease from 2.5 million barrels to 2.0 million barrels per day
By 2040, production would fall to approximately 910,000 barrels/day
Employment would decline 28% to 268,000 jobs from 370,000 jobs GDP would fall almost 30% to $22.1 billion from $31.3 billion
Government revenues would plunge 26% to $5.2 billion from $7 billion annually