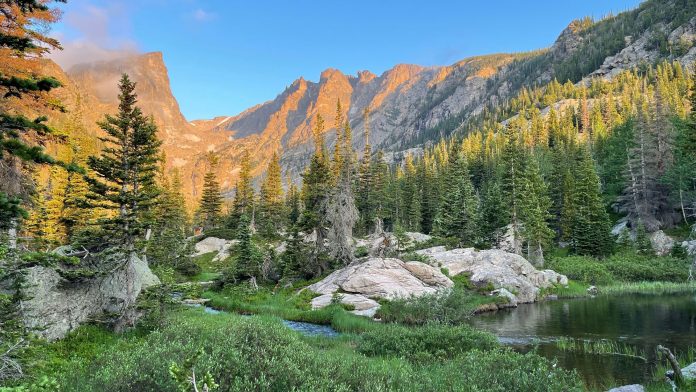 The coronavirus pandemic put a damper on international travel plans for millions of Americans in 2021. While some countries closed their borders or kept strict restrictions in place, Americans took to the great outdoors and used the lack of travel as an opportunity to see the sights right in their own backyard – America's national parks!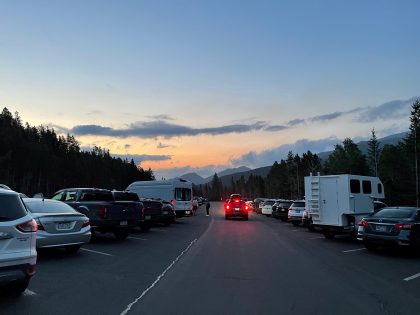 And see they did – with over 297 million visitors. Up 25% from 2020.
In fact, the parks saw so much traffic 44 of the nation's 63 national parks set visitation records. That's 38 more than the prior year. Before the pandemic, visitation at the National Parks had continued to climb, peaking at over 327 million in 2019. That foot traffic comes at a cost – and not just to pay for rangers, guides, scientists, archeologists, and firefighters – but to the landscape and the environment.
And that will cost a lot too – the only problem – the U.S. Department of the Interior under the direction of the Administration is reducing funding to tackle this problem. That's right, reducing funding.
America the Beautiful
On March 1, 1872, Congress established Yellowstone National Park as the first national park for the "benefit and enjoyment of the people" and placed it under the exclusive control of the Secretary of the Interior. Its founding began a worldwide national park movement. Today, there are more than 4,000 national parks worldwide. The U.S. alone is home to an astonishing 423 national parks, monuments, and nationally protected lands comprising the vast National Park Service (NPS) system. Of those, 63 areas are classified as national parks.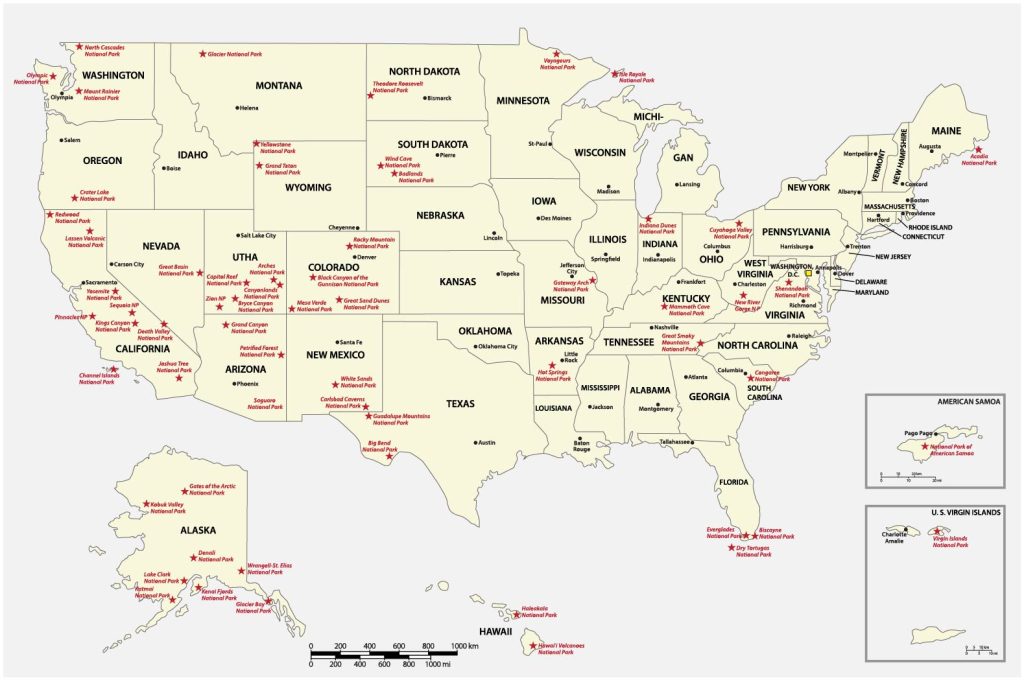 With their magnificent beauty and abundant wildlife, it's no surprise that millions of people flock to visit them every year. While 2020 saw more than 237 million visitors, it was down more than 90 million visits (27.6%) from 2019. The decrease was primarily due to temporary park closures implemented in response to COVID.
Now, as restrictions have become relaxed or lifted, travel and vacations have become more rampant, and national parks are seeing an uptick in tourists again. Of the 423 parks, 25 saw more than 50% of the total visitors. Blue Ridge Parkway took the number one spot with almost 16 million visitors, followed by the Great Smoky Mountains (14.1 million) and the Golden Gate National Recreation Area (13.7 million). The downside? We are also seeing an increase in pollution, vandalism, and a general lack of respect for these protected areas.
What's Going On?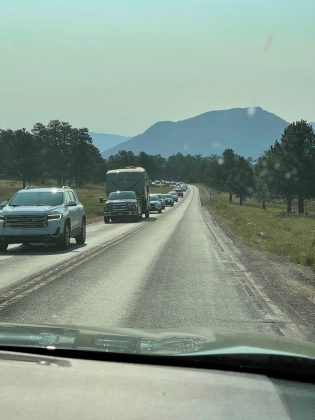 Nearly every national park is negatively affected by air pollution and climate change, but the actual data is worse than many people may realize. The National Parks Conservation Association (NPCA) report reveals that 96 percent of the United States' 423 national parks have significant air quality issues.
According to Smithsonian Magazine, the most impacted spots are the most popular. California's parks, in particular, suffer from poor air quality, according to the study. Sequoia, Kings Canyon and Joshua Tree national parks, and Mojave National Preserve have dangerous levels of air pollution for more than two months per year, mainly in the summer season when they see the most tourists.
Even worse is that in 2014, Science Advances journal conducted a study looking at the average annual and summertime ozone trends for 33 national parks and the 20 largest U.S. metropolitan areas from 1990 to 2014. The majority of their findings saw that the average annual ozone concentrations in national parks are statistically indistinguishable from those in urban areas.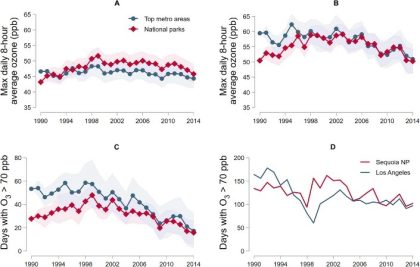 The primary culprit for this is ozone, which can be exacerbated by car emissions and is known to trigger numerous health issues, including asthma attacks and breathing problems. Elevated ozone exposure to national parks can affect sensitive vegetation and ecosystems, including forests, parks, wildlife refuges, and wilderness areas.
While the study capped at 2014, visitation to national parks has seen a significant increase in visitors since then, with the highest year on record being 2016 with 331 million visitors and the lowest happening in 2020 in correlation to closures from the coronavirus pandemic. Factor in the cars and campers that accompany these visitors to and throughout these parks, and you're seeing even more pollution being funneled into these pristine areas.
Break Stuff
In addition to pollution from cars, there's another polluter that's even more disheartening: people. The park service oversees 70 million pounds of waste every year – enough to fill 600 dump trucks! While the National Parks Service asks visitors to manage their trash and 'leave no trace' while making the most out of their visit to America's parks, NPS is still overwhelmed by waste, especially in the crowded summer months when more people make day trips or camping.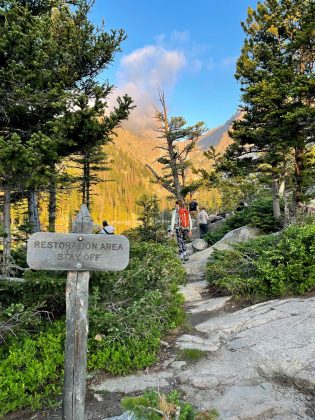 Another factor is that sometimes, there are simply inconsiderate people. While most visitors go to see and enjoy the beauty, some are there to destroy it. A recent article highlighted several offenses with visitors harassing wild animals, spray painting thousand-year-old rocks, doing yoga poses on fragile ecosystems, and even starting fires.
The need for maintenance and preservation has not gone unnoticed because, in 2020, Congress passed the Great American Outdoors Act (GAOA), which provides up to $1.9 billion a year for five years to address the park system's nearly $12 billion maintenance backlog. Some sites have been restricted to a specified number of visitors to alleviate some of these issues, and some parks have instituted reservation systems to avoid congestion.
Taxman
Protecting and preserving these areas is no small feat – and it's definitely not cheap. The National Park Service employs over 20,000 people and is overseen by the U.S. Department of the Interior, which manages federal lands and waters under its purview. Each year, NPS defines its 'goals and objectives and the funding necessary to accomplish them' and is submitted to Congress for approval. For Fiscal Year 2022, NPS requested $4.6 billion allocated to operating the parks, preservation, construction, and more.
However, more money needs to be allocated to address the significant repairs sustained at each park from hosting millions of visitors each year. From campgrounds and picnic areas to trails and other critical infrastructure – our parks need some tender love and care.
The Beatles said it best when they wrote their timeless lyrics:
If you drive a car, I'll tax the street

If you try to sit, I'll tax your seat

If you get too cold, I'll tax the heat

If you take a walk, I'll tax your feet
That money has to come from somewhere – and it comes from oil and gas companies. Through GAOA, Offshore lease sales and royalties help generate permanent funding for the Land and Water Conservation Fund, with nearly $900 million a year dedicated to the conservation of and access to public lands, and an additional $1.9 billion per year for 5 years for maintenance of critical facilities and infrastructure within our national parks.
However, the Secretary of the Department of the Interior, Deb Haaland, and the Administration have effectively put a moratorium on oil and gas leasing on federal lands and waters. Without federal lease sales or royalties from offshore oil and natural gas – what will take its place? It's time to ask the Biden Administration and Secretary Haaland just how they plan to do it. Because when you go to plug one hole, another will spring a leak.