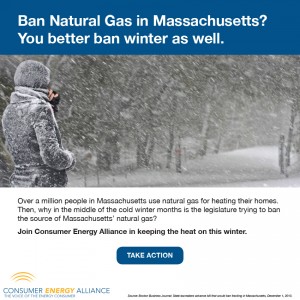 Harsh winter forecasts make the cost of home heating a new worry for the family budget, especially in New England where the winter forecast is for bitter cold and snow.  More than 90% of homes in the U.S. are expected to have higher bills for heating costs compared to 2012.
The Massachusetts legislature is working to ban natural gas production throughout the state despite over a million people in Massachusetts using natural gas to heat their homes.
Why in the middle of the cold winter months is the legislature trying to ban the source of Massachusetts' natural gas?
Make no mistake natural gas plays a critical role in Massachusetts where it generates 68 percent of its electricity and is imported to 3 LNG terminals that supply about 20 percent of New England.
Last year old man winter stuck it to energy consumers in the New England.  Cold temperatures arrived just as demand for natural gas peaked and supplies ran low – causing high prices for consumers heating their homes.  At one point New Englanders were paying nearly 10 times the typical rate for natural gas heating.
Winter 2012 will feel like spring training in Fort Meyers, FL if temperatures dropp lower than last year and the Massachusetts legislature bans natural gas production,.
Fortuitously, new technologies in shale resource development are creating a boom in natural gas production. According to the Energy Information Administration (EIA), the U.S. produced more than 25 trillion cubic feet of natural gas in 2012 – a trillion cubic feet more than in 2011 — adding to a 25 percent production increase nationally since 2007.
Not only is the United States now leading the world in natural gas production, but it is also providing major energy cost savings for many families.  In fact, John Wells, director of the home-heating assistance program at Action for Boston Community Development, stated in National Journal this week, "About six years ago, when natural-gas prices were high, it was a real crisis. Low natural-gas prices have been a godsend to low-income families."
While the Marcellus Shale formation doesn't stretch into Massachusetts from Pennsylvania and New York, the state does have the Hartford Basin, which tracks through the Connecticut River Valley on a north-south axis through Massachusetts and Connecticut. Regardless of where the natural gas lies, it's clear that it is a key component to make natural gas affordable in Massachusetts – from electricity generation to keeping homes warm during a harsh winter.
Massachusetts should be promoting policies that support the responsible development of natural gas. Consumer Energy Alliance is urging people to take action and stop the Legislature's ban on natural gas before it gets any further.
Don't be left out of the cold this winter. Join Consumer Energy Alliance in keeping the heat on in Massachusetts.