The Keystone pipeline just passed an important milestone: last month, TransCanada announced that the pipeline has safely delivered more than one billion barrels of crude oil since construction finished five years ago.
So, what does one billion barrels of oil amount to? To put it in perspective, one billion barrels of oil is about how much lies beneath Oklahoma,where energy production has been a boon to the state's economy. That's one billion barrels of oil that have been safely delivered across thousands of miles, a task that would have taken 1.7 million train cars or 3.3 million trucks. What's more, the Keystone pipeline has generated, to date, close to $200 million in property taxes and more than 14,000 construction jobs.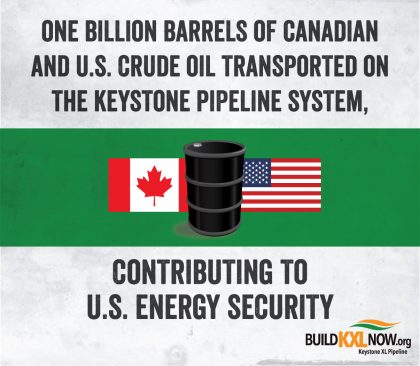 But despite this major accomplishment of the existing Keystone pipeline system, plans to build the next leg of the pipeline, Keystone XL, still remain stalled after six years of delays. In addition to the jobs and revenue created by the Keystone pipeline, the KXL would support another 42,100 jobs during construction and contribute $55.6 million in annual property taxes in just the first year of operation.
The Obama Administration continues to block efforts to finally approve the KXL, holding back the jobs and wealth that would boost the economies of states and counties along the route. If the success of the Keystone pipeline is any indicator of how the KXL will operate, it's clear that the federal government should move forward on the project soon.
What can you do? Take Action to tell President Obama to approve Keystone XL!