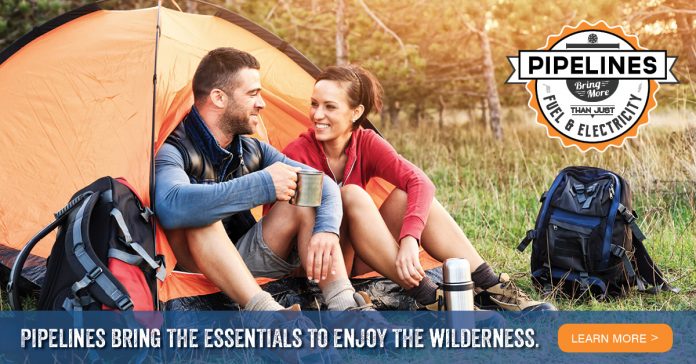 While outdoor recreation can be a pastime or a passion, for some it is a lifestyle. Camping and other recreation activities are enjoyed by people all over the United States, whether they're alone, or with family and friends, it helps us to get away from the stresses of our daily lives and to discover the beauty our nation has to offer.
From the top of Mt. McKinley to the depths of the Alenuihaha Channel, Americans can't get enough of the outdoors. With over 48 percent of Americans participating in at least one outdoor activity in 2015, it's clear how this pastime has become a multi-billion dollar a year industry. Many of the properties that consumers find desirable in gear, such as water resistance, durability, and quick drying elements, are made possible through the use of synthetic fabrics and compounds, which are generally derived from oil.
Yes, the same oil that heats our homes and fuels our cars also gives our gear some of the vital properties that we need, or look for, depending on what kind of outdoor activity we're getting involved in. That oil also contributes to many aspects of modern outdoor life that often go unnoticed or underappreciated.
From hiking boots and backpacks to kayaks and tents, Americans spend about $646 billion annually on outdoor recreation activities – with about $120.7 billion of that on equipment alone. This generates more than 6 million jobs in our own country and represents an often overlooked but vital part of our economy. Getting outside also stimulates our minds and bodies in a time where our jobs are becoming increasingly sedentary.
So what are American's aspiring to do outdoors? According to the Outdoor Industry Association, most look forward to camping, bicycling, and swimming. In fact, just this year Kampgrounds of America reported that more Americans than ever are camping, with over 37 million households camping at least once. With new innovative materials, campers can carry tents that weigh as little as 24 ounces, making it easier to take other gear such as food, fire starters, extra clothing, and sleeping bags. All of which are state-of-the-art and made of lightweight materials.
Of those materials, polyester is by far the most popular material for use in camping gear because of its properties. This synthetic fiber, made from oil derivatives from petrochemical refineries across America, is preferred for its durability. It's also great in the outdoor because fibers like these don't absorb moisture allowing clothing and equipment to wick moisture, dry easily, and resists bacteria like mildew that can build up.
This is especially important as you brave the elements outside. From our clothes to our tents and the insulation in our sleeping bags, polyester and other synthetic fibers have revolutionized the very things that keep us protected from the elements. Their structure, based on repeating chains of molecules called polymers, give these materials strength and flexibility with a fraction of the weight of other materials such as wool or cotton, which are naturally occurring resources that need to be maintained.
Many of the plastics used to build the equipment that enhances our outdoor experiences are also oil based. One prominent ingredient use to build sturdy kayaks unaffected by water is polyethylene. Polyethylene also makes the seats that are inside the kayaks, along with ethafoam that gives padding to the seat, hip, knee, and feet areas. These buoyance and safety features make kayaking through rushing rapids or floating idly out on a lake that much more fun and comfortable.
These same materials also form our water bottles for much-needed hydration out on that long hike, or sunglasses to protect our eyes from the elements. A derivative like polycarbonate is also a key component to helmets for snowboarding, skiing, or bicycling so that if or when we crash while we're flying down the slopes or finding the good lines out on the trails, we can remain safe. They're part of so many things that we often take for granted. And they're all derived from petroleum.
So while pipelines may seem insignificant. The reality is that they help deliver the resources we need quickly, efficiently, and safely. Our lives benefit from the use of petroleum products in more ways than can be expressed. Outdoor recreation clothing and equipment is just another aspect of how this resource lets us explore and do the things we love. Oil and natural gas aren't just about fueling our cars or providing the electricity to our house, they've given way to inventions that not only make us happy and get us outside, but they protect us from the elements along our journey. Providing hours of enjoyment whether we're out alone or spending time with friends and family.