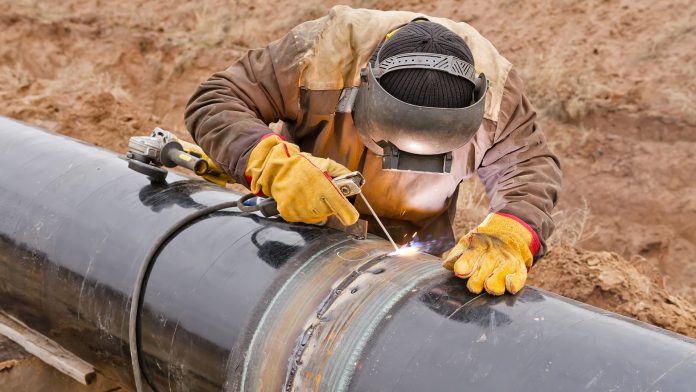 WASHINGTON, D.C. – A majority of voters in Virginia, West Virginia and North Carolina support the expansion of domestic energy production and infrastructure – including the approval and construction of the Atlantic Coast Pipeline, a new poll from Consumer Energy Alliance (CEA) reveals.
Sixty percent of the voters surveyed by CEA in West Virginia, where the pipeline would start, support the project. Fifty-four percent support the project in Virginia and 52 percent of surveyed voters support it in North Carolina. The approximately 600-mile pipeline would run though the former state and end in the latter.
Another much-discussed U.S. pipeline proposal, the Keystone XL, also garnered a majority or plurality of support from surveyed voters in all three states.
The polling was done to examine how much support the Atlantic Coast Pipeline, Keystone XL pipeline, offshore production and other key energy issues have amongst voters – and what role each or all could play in the 2018 midterm elections.
Other key findings from this poll include:
A least half of voters in each state have heard about the Atlantic Coast Pipeline and support it
Across all three states, about two-thirds of voters believe pipelines are the safest means for transporting natural gas
At least 80 percent of voters in each state say issues are very or somewhat important in their voting decisions
Candidates in next year's midterm elections will need to take a strong stance on pipeline construction and energy development
Substantially more voters are likely to vote for a candidate who supports natural gas infrastructure projects – like the Atlantic Coast Pipeline
This poll's findings closely mirror what CEA found in a similar poll two years ago
"As we've seen in years past, the success of those running for Governor or for seats in this election cycle will hinge on their ability to promote issues that stimulate the economy, create jobs, contribute to the well-being of U.S. families and small businesses, as well as helping to ensure the protection of our environment," CEA president David Holt said. "And promoting the expansion of domestic energy production and infrastructure, especially pipelines, remains the best way to achieve all of the above."
Holt added: "Voters clearly support the safe, responsible development of energy infrastructure, such as the Atlantic Coast Pipeline. To win, candidates are going to have to listen and side with voters."
Organizations from Virginia, West Virginia and North Carolina also shared their thoughts about the findings.
"Stable supplies of affordable and reliable natural gas are vital to North Carolina's manufacturing base, which provides more than 440,000 jobs and generates nearly $90 billion in economic output for our state," Preston Howard, president of North Carolina Manufacturers Alliance, said. "This poll confirms what many of us already know: The Atlantic Coast Pipeline is widely supported, safe and a critical piece of energy infrastructure needed to keep North Carolina growing."
"The Atlantic Coast Pipeline will bring good-paying jobs to Virginia and make us more attractive for businesses," Barry DuVal, president and CEO of the Virginia Chamber of Commerce, said. "Virginians support this project because they recognize the need for energy that's safe, reliable and affordable."
"Virginia manufacturers support the ACP project and encourage stakeholders to find an amicable resolution to the pathway challenges," Brett Vassey, President and CEO of the Virginia Manufacturers Association, said. "The natural gas that this pipeline will deliver to Virginia will provide affordable, reliable, clean electricity, fuel and raw material for our manufacturing facilities. This supply of natural gas from the Marcellus reserves in West Virginia will allow manufacturers to plan and compete for future investments. We encourage Governor McAuliffe and all state and local elected officials to support this critical project."
"This is one of several important pipeline projects pending in West Virginia, one that's a big issue for us and one that we're very excited about and supportive of. These pipeline projects, together, make up the largest private-sector investment this state has ever seen, and we feel like the construction of this pipeline and others are crucial for the success of our oil and gas industry," Anne Blankenship, executive director of the West Virginia Oil & Natural Gas Association, said. "Pipelines like these would equate to more than $5 billion in economic impact, tens of thousands of jobs and significant local tax receipts for local government. Once this pipeline and others are constructed, they'll provide even more incentive for gas development in West Virginia, which will equate to more local jobs and tax benefits for local communities."
"The hard-working men and women of the Laborers' International Union of North America strongly support the Atlantic Coast Pipeline and the thousands of high paying jobs that this critical project will create," Justin Meighan, assistant regional manager for the Laborers' International Union of North America Mid-Atlantic region, said. "In addition to lowering energy costs for families and manufacturers and generating millions of dollars in tax revenues for state and local governments, this project will create more than 17,000 high paying jobs and spur $27 billion in economic activity across the Mid-Atlantic. We call on the Governors of West Virginia, Virginia and North Carolina to support the ACP and the men and women who will build it."
CEA's survey also showed that the governors in each polled state have significantly more supporters than detractors, especially in West Virginia and North Carolina, where newly-elected Democratic governors Jim Justice and Roy Cooper each garnered 54 percent support among voters.
Survey documents are available here.