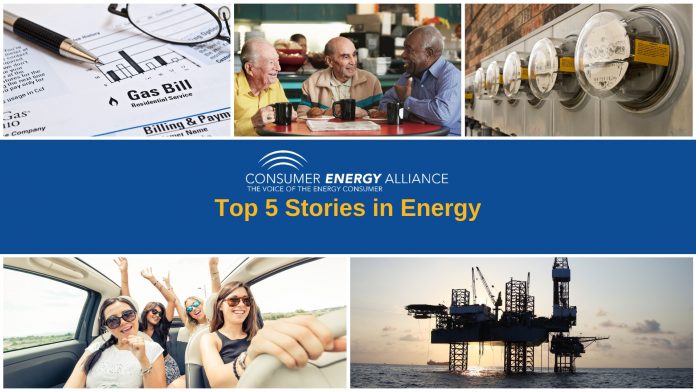 There's some good news for consumers this week regarding energy costs, alternative sources of energy, and renewable energy.
1. With oil and gas on an upswing, is Jefferson County, Ohio on the way to an economic recovery? That's what WTOV Fox 9 in Ohio is wondering. With five of the top ten natural gas producing wells in Ohio, Jefferson County is not only contributing to keeping energy costs affordable for families, farmers, and businesses across the region, but it is also realizing new opportunities for its' residents. Unemployment in the county is now under 6 percent, one of the lowest figures in recent memory, and continuing to decrease.
2. From South Carolina, "The Post and Courier" reports that the Upstate region will benefit from an agreement by the area's largest energy company, Duke Energy, to continue offering incentives for renewable energy. The major utility company agreed to a program that would give consumer ratepayers who purchase their electricity from Duke Energy the ability to generate their own in a monetarily practical way– for at least a few months. That depends on the SC legislature since the agreement will end during the legislative session. At issue is the "net metering" program which had been capped by the legislature. The recent extension has a mid-March deadline. The extension requires the approval of the Public Service Commission. Duke is optimistic that it will give them time to work out a permanent solution.
3. According to the Associated Press this week, Pennsylvania energy consumers saved over $30 billion over ten years due to lower natural gas prices. The Consumer Energy Alliance (CEA) reported that an increase in production and up-to-date technologies resulted in Pennsylvania consumers seeing a savings of $30.5 billion between 2006 and 2016. Residential customers saved $13.3 billion dollars and commercial customers saw a savings of over $17.2 billion. The report is entitled: "Everyday Energy for Pennsylvania."
4. The Senate passed legislation introduced by Senator Edward J. Markey (D-Mass) that is intended to ensure that consumers have a voice in energy prices. According to a U.S Senate press release, The "Fair Ratepayer, Accountability, Transparency, and Efficiency Standards Act" or RATES makes certain that consumers can protest energy rate changes filed with the Federal Energy Regulatory Commission (FERC). This remedies a weakness in the public's right to challenge energy rates through the Federal Power Act. Currently if a vacancy on FERC leads to a deadlocked decision, the public cannot challenge the rate change. This ensures that a protest is possible in that event.
5. In Texas, production declined by 2% in June from the same time last year due to the lack of infrastructure needed to transport produced oil and gas. To alleviate this problem, midstream companies are working to install enough capacity to move what is being produced daily in the various shale plays in the state. This also means thousands of new jobs, with estimates near the tens of thousands from the pipeline projects alone.