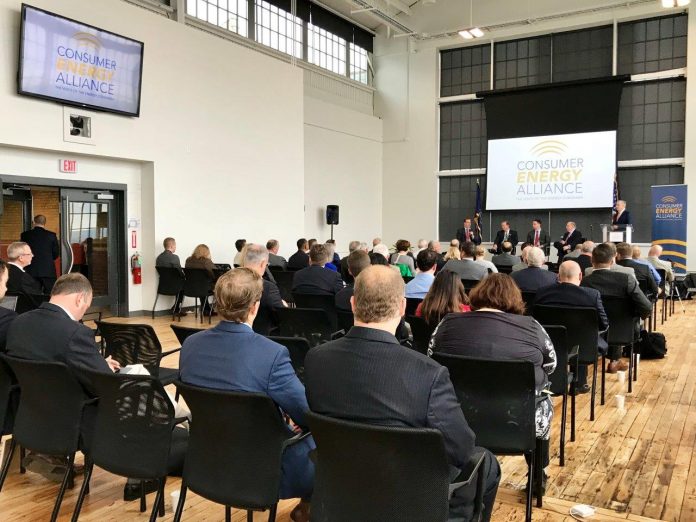 PITTSBURGH, PA – Domestic energy production and development in the Marcellus and Utica formations continues to be a driving force of American energy dominance, benefitting the wallets of all Americans, businesses and the environment, U.S. Secretary of the Interior Ryan Zinke said today at an energy and manufacturing summit in Pittsburgh, hosted by Consumer Energy Alliance (CEA).
At the Energy Innovation Center, Zinke, with other policymakers and business and labor leaders, discussed how the Marcellus and Utica shale formations have driven growth in natural gas production; lowered manufacturing, industrial and commercial costs; dramatically increased job growth, tax revenue and economic opportunities; and, with pipeline expansion, helped better protect the environment — not just in Pennsylvania and the Northeast, but nationwide.
The event brought together the following speakers to share their perspectives on energy policy in the context of jobs, the economy, the environment, and U.S. competitiveness:
Alan Armstrong, President, and CEO, Williams
Dave Spigelmyer, President, Marcellus Shale Coalition (MSC)
Darrin Kelly, President, Allegheny-Fayette County Central Labor Council
Bruce McKay, Senior Policy Advisor, Federal Affairs, Dominion
Kevin Sunday, Director of Government Affairs, Pennsylvania Chamber of Business and Industry
James Kunz, Business Manager, IUOE Local 66
Ryan Sandmann, Legislative Representative, Laborers' International Union of North America (LiUNA)
Rich DiClaudio, President of the Energy Innovation Center Institute
Mike Butler, Executive Director, CEA-Mid Atlantic
With election season underway, and recent polling showing that an overwhelming majority of the nation supports a safe, bipartisan policy that promotes American energy security, lowers costs and multiplies economic prospects, speakers at the summit stressed the need to move forward with an all-of-the-above strategy that urges the growth of all resources and the expansion of all energy infrastructure — starting in the Marcellus and Utica shale plays.
"President Trump has been clear: America has to be energy dominant," Secretary Zinke said. "We have re-lit the pilot light of American energy under this President. We are incorporating industry innovation, best science and best practices to improve reliability, safety and environmental stewardship. Our energy strategy is 'all-of-the-above,' leveraging every source of energy to take our nation forward. I am bullish about America's energy future."
Butler said voters must remember the importance of reasonable energy solutions when they head to the polls, adding how a recent CEA analysis found Pennsylvanians saved more than $30.5 billion from 2006 to 2016 in natural gas costs, thanks largely to increased production and new technologies.
"Developing the Marcellus and Utica shale plays and improving their energy infrastructure are must-haves for ensuring our energy security and diversity and increasing access to more affordable, reliable energy," he said. 'Both will help lower energy costs for cash-strapped families and businesses and create more economic opportunities by providing greater incentive for manufacturers and businesses to set up shop and create jobs."
Case in point: Williams now has more than $14 billion of assets serving the Marcellus and Utica resource base after investing heavily in the area over the past 10 years, Armstrong said.
"We continue to expand our premier gathering and processing network, and recently completed the $2.7 billion Atlantic Sunrise Pipeline, a vital takeaway pipeline that will connect Northeast Pennsylvania's robust natural gas supply with important markets," Armstrong added. "From a petrochemical and manufacturing standpoint, we believe there's tremendous growth opportunity in this region, and Williams remains committed to supporting that growth by safely and reliably connecting our customers with theirs."
Sunday said that because of the state's sustained leadership in energy, Pennsylvania has a "generational opportunity" to "fortify" its position in the 21st century "by leveraging our energy assets to innovate in transportation, manufacturing, technology and education."
"Federal tax and regulatory reform have reinvigorated the national economy and following up those historic reforms with pro-growth policy at the state level will cement our state's competitive advantage for years to come,' Sunday said.
McKay illustrated this by explaining how Dominion's local work is having a positive domino effect regionally on households and businesses.
"The billions of dollars in midstream investments being made by Dominion Energy to help get natural gas to hungry markets at home and abroad ripple through the region's economy providing jobs, local tax revenues and opportunities for many small and midsized businesses," McKay said. "A prime example is the $400 million worth of pipe made by Pennsylvania workers at Durabond Industries for the Atlantic Coast Pipeline."
Another example, Spigelmyer said, the industrial and environmental gains local production has provided.
"We have generational economic and environmental opportunities ahead of us thanks to our abundant supplies of clean-burning American natural gas," Spigelmyer said. "Manufacturers now have a competitive advantage, hard-working Pennsylvania families are enjoying significant energy savings, and our environment, especially air quality, continues to sharply improve. With competitive policies that place a priority on local job creation and making Pennsylvania a global energy and manufacturing leader, there's no doubt that the opportunities ahead are indeed generational."
Kunz, meanwhile, recalled still-too-fresh memories of how the region looked before the Marcellus boom unfolded, and how it's transformed since.
"After the shuttering of the steel industry and the subsequent decline of the manufacturing sector, we saw firsthand how families struggled to make ends meet, confronted with decisions like whether to pay their rent or mortgage or their utility bill. Thousands left the state," Kunz said. "But the development of our state's own resources in recent years has fueled a resurgence, putting thousands back to work and reducing energy costs. To keep this going, policymakers must embrace every opportunity we have to show our support for energy."
Kelly agreed, saying that local workers who saw decades of industrial decline are thankful for the dramatic swing local energy production has provided.
"The working men and women who depend on regionally-made, lower-cost energy to affordably and efficiently produce the materials and steel that keep them employed are thankful for what the Marcellus Shale has provided them – a chance to stand together and work toward achieving the American dream," Kelly said.
###
About Consumer Energy Alliance
Consumer Energy Alliance (CEA) brings together families, farmers, small businesses, distributors, producers and manufacturers to support America's energy future. With more than 450,000 members nationwide, our mission is to help ensure stable prices and energy security for households across the country. We believe energy development is something that touches everyone in our nation, and thus it is necessary for all of us to actively engage in the conversation about how we develop our diverse energy resources and energy's importance to the economy. Learn more at ConsumerEnergyAlliance.org.
Contact:
Emily Haggstrom
P: 720-582-0242
ehaggstrom@consumerenergyalliance.org