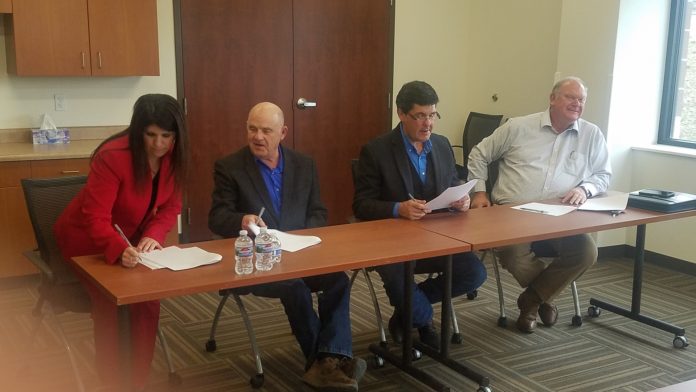 Denver, CO – Consumer Energy Alliance (CEA), the leading consumer advocate for energy, applauded County Commissioners and community leaders in Garfield, Mesa, Moffat, and Rio Blanco counties after they signed a Memorandum of Understanding (MOU) in Rifle, CO today joining the Utah Governor's Office of Energy Development (OED) and the Ouray and Uintah Utes in a newly formed advocacy group. The group, named Western States and Tribal Nations (WSTN), was formed to collaborate on the development of domestic natural gas resources produced in the western United States, including Colorado and Utah, to export to international markets.
The signing was done in advance of the group's first report being released Monday, April 15th, entitled, "Natural Gas Markets for the Western States and Tribal Nations." The report will detail how abundant natural gas resources in the Piceance and Uinta basins of Colorado and Utah can help regional, and global communities thrive economically and environmentally — if more production and infrastructure expansion efforts are approved.
"WSTN establishes a common approach toward developing markets for Piceance and Uintah natural gas between the states of Utah and Colorado that will help strengthen and benefit the rural economies of both states," said Andrew Browning, CEA's Chief Operating Officer based in Denver. "The addition of these counties through this MOU will help to strengthen this region's intent on building out the resources, and the infrastructure necessary to help enhance these local economies, provide opportunities for local families and businesses, and contribute a resource that can help our region, the nation, and the world as we work to reduce emissions."
For the past several months, the WSTN group has been working diligently to study and develop a proactive framework for facilitating conversations between a diverse group of stakeholders to identify opportunities for market development of Piceance and Uintah basins natural gas.
"Our counties are committed to marketing our natural gas resources to Asia and other countries, to help stabilize economies in western Colorado and aid in the geopolitical stabilization of America's allies abroad," said Rose Pugliese, Mesa County Commissioner.
A full press release and the report, detailing the group's findings will be released on Monday, April 15th. To see the release and report under embargo, please contact Emily Haggstrom.
###
About Consumer Energy Alliance
Consumer Energy Alliance (CEA) is the leading consumer advocate for energy, bringing together families, farmers, small businesses, distributors, producers and manufacturers to support America's environmentally sustainable energy future. With more than 550,000 members nationwide, our mission is to help ensure stable prices and energy security for households and businesses across the country. CEA works daily to encourage people across the nation to seek sensible, realistic and environmentally responsible solutions to meeting our energy needs.
Contact:
Emily Haggstrom
P: 720-582-0242
ehaggstrom@consumerenergyalliance.org