Energy Day Festival Sparks New Interests for Houston Area Students
Mayor Parker and Event Organizers Urge Students to Pursue Careers in Energy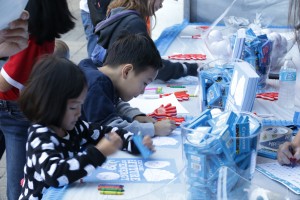 Houston, TX – Twenty thousand people turned out Saturday to applaud more than 85 Houston area teachers and students who were recognized at the third annual Energy Day Festival. Elementary, middle school and high school age students participated in one of six contests exploring the science and technology behind today's energy innovations.
"There are great possibilities for students who pursue careers in science and technology," said David Holt, the President of Consumer Energy Alliance, the chief organizer of the festival. "Energy Day is showing young people the practical applications of what they are learning in the classroom. We need more students engaging and pursing careers in innovation."
Houston Mayor Annise Parker and the University of Houston Professor Alex Ignatiev also gave remarks during the festival, each challenging students to pursue careers in science and technology.
The festival in its third year, featuring over 70 exhibitors, set a new attendance record. Local law enforcement estimated over 20,000 people attended the one-day event.
The Energy Day Festival marks the conclusion of a series of academic events happening throughout the previous school year. Students participated in the Energy Academic Program which is made up of six separate contests: The Science and Engineering Fair of Houston; the CSTEM Challenge; the CASE Houston: Energy City of the Future 2050 Competition; the Children's Museum of Houston Young Inventors' Showcase; The International Sustainable World Energy, Engineering and Environment Project; The HGS/HMNS/CEA Art, Essay and Media Contest and the John Kingsley Kerver Educator Award.
Review the 2013 winners at www.energydayfestival.org.