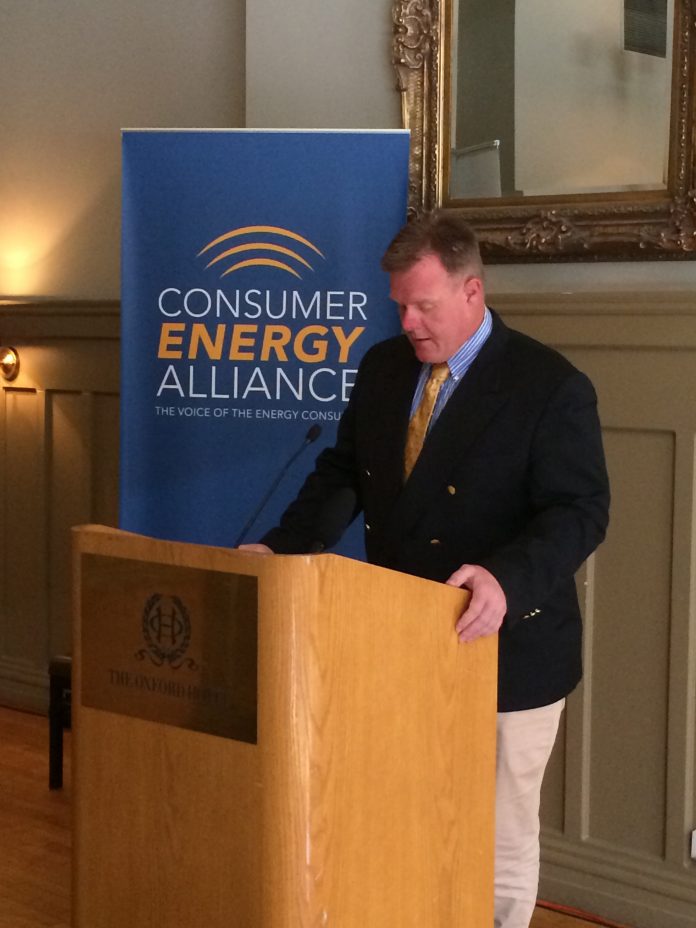 Consumer groups caution EPA to not move too fast or risk price spikes.
Elected leaders, key consumer groups, businesses, and representatives from organized labor joined with Consumer Energy Alliance (CEA) on Tuesday, July 29th to host a series of press conferences voicing concern with the U.S. Environmental Protection Agency's proposed Clean Power Plan.
The press conferences took place before commencement of the two-day hearings on the EPA's proposed carbon emissions regulations at the Omni Hotel at CNN Center in Atlanta and the EPA Region 8 Building in Denver.
Each speaker, citing studies and economic analyses, told reporters that the EPA's proposed rules, if enacted, would significantly squeeze the nation's energy infrastructure, cause substantial reliability concerns, and ensure higher electricity prices across the board. The proposed rules, for instance, might cost Americans $17 billion a year more to pay their electricity bills, and hit the economy with $50 billion a year in new costs, the speakers said, quoting data garnered by the U.S. Chamber of Commerce
CEA hosted the press conferences to ensure that consumers had a voice in this critical issue. CEA leaders also testified at the two-day hearing that took place in Washington, D.C. Another press conference will take place in Pittsburgh at the Courtyard Marriott Downtown on July 31st.
The following are comments made by those who spoke at Atlanta press conference:
Commissioner Tim Echols, Georgia Public Service Commission:
"In Georgia, we have made great progress at reducing carbon without a greenhouse gas rule from the EPA," said Georgia Commissioner Tim Echols. "I'm asking the EPA to slow down and give utilities a chance to retire coal plants at the end of their useful life so we can be better stewards of the ratepayers' money."
Commissioner Chuck Eaton, Chairman, Georgia Public Service Commission:
"Today's proposed rule will significantly impact not only the operation of existing power plants in Georgia, but also the operation of the electric system as a whole. As Chairman of the Georgia Public Service Commission, I am deeply concerned that this rule intrudes on the state's electric regulatory authority.  This rule also ignores the thorough process that the PSC undertakes to accomplish its mission.  As a result, I am concerned that this rule, in combination with EPA's proposed rule for new power plants, will increase the cost of power to our citizens and unnecessarily strand investments we have made in the existing generation fleet."

Brian Thompson, International Representative, International Brotherhood of Electrical Workers:
"Everyone is in favor of a cleaner environment, and to present the issue as being for or against this basic principle is misleading to say the least.  The issue is how far and how fast we go to achieve clean air without disrupting our entire economy and devastating an industry and the hundreds of thousands of jobs that go along with it as well as the tax base and economic well-being of communities across the land."

The following are comments made by those who spoke at the Denver press conference: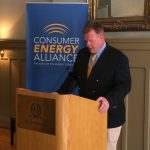 Sean McCarville, Business Manager, International Brotherhood of Electrical Workers- Local 111:
"In an environment where Colorado and the nation continues to recover from the worst recession since the Great Depression, EPA's Clean Power Plan would have a major effect on urban areas while negatively impacting fragile rural communities who receive their energy through electric co-ops.  In addition, the approximately 3,500 Local 111 members who work for electric association/co-ops, generation/transmission companies, and investor-owned utilities will see a substantial threat to their middle-class careers; careers that include health and retirement benefits."
Andrew Browning, Executive Vice President, Consumer Energy Alliance:
"EPA's aggressive timeline allows states only one year to develop a very complex plan that will need to address a series of adjustments to their electricity generation, consumption and energy infrastructure. Forcing through regulations of this magnitude in such a short timeframe will limit the ability of states and stakeholders to thoughtfully prepare for the drastic changes that this rule will cause. If this Administration is comfortable spending more than five years evaluating the Keystone XL pipeline, it should feel comfortable taking its time to craft a thoughtful rule that fully evaluates the consequences of its proposed actions."
Brent Boydston, Vice President of Public Policy, Colorado Farm Bureau:
"Agriculture relies heavily on energy for day-to-day operations. Energy is required to run irrigation systems, feed livestock, plant fields, and harvest, transport and process food. The current proposal by EPA will make daily operations more expensive and unfairly burden farmers and ranchers."