For the third time in eight months, Consumer Energy Alliance (CEA) has gathered more than 100,000 letters from Americans across all fifty states to offer their support for expanded offshore energy development. The most recent group of comments comes in support of the Bureau of Ocean Energy Management's (BOEM) 2017-2022 Draft Proposed Program for Outer Continental Shelf Oil & Natural Gas Leasing.
"As it stands today, more than 340,000 Americans have made it clear that they want Washington to open a path toward responsible offshore energy development," said David Holt, president of Consumer Energy Alliance. "We now have the opportunity to determine our own destiny when it comes to energy production and energy security. Americans have time and again called on our government to move forward and develop our nation's energy resources."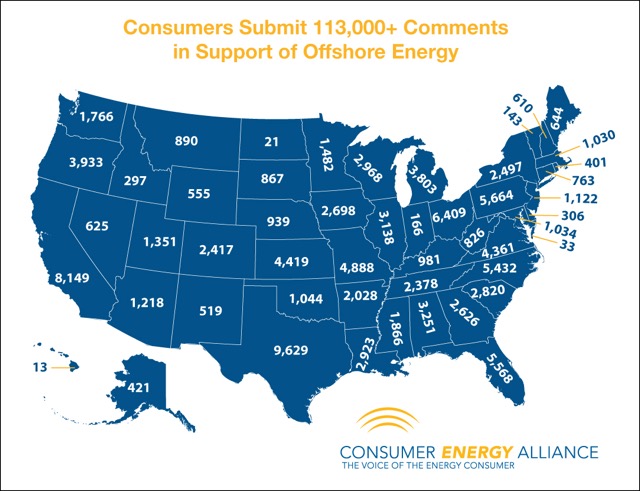 In all, 113,934 Americans submitted comments during BOEM's most recent comment period on the five-year Draft Proposed Program, with more than 33,300 comments coming from affected coastal states. Previously, Consumer Energy Alliance gathered more than 228,000 comments for two separate comment periods (here and here) on offshore energy development, all within the past eight months.
"With the comments we submit today, combined with the hundreds of thousands we have submitted in recent years, and new polling on the subject, it's clear what Americans want when it comes to offshore energy development in the United States," continued Holt. "In a word: More. They want more access, more production, more jobs, more economic growth and more energy security.
"Consumers and business fully understand that the either-or choice presented by anti-energy activists is false. They understand the potential risks and rewards associated with offshore energy production. They know we can mitigate risks, and solve challenges, to have BOTH environmental protection and responsible energy production. We hope Washington gets the message and allows the development of our offshore energy resources in the Atlantic, Arctic and Gulf of Mexico."
The U.S. Outer Continental Shelf has more than 6,200 active oil and gas leases covering approximately 34 million acres. These leases produce 18 percent of domestic oil production and 5 percent of domestic natural gas production. These areas hold an estimated 89.93 billion barrels of oil and 404.60 trillion cubic feet of natural gas that have yet to be tapped.