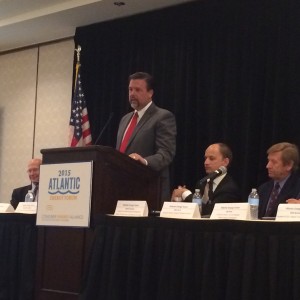 Consumer Energy Alliance today hosted the 2015 Atlantic Energy Forum in Richmond, Virginia, featuring Abigail Ross Hopper, Director of the Bureau of Ocean Energy Management and other distinguished panelists. 
The event, the first of a four part series, gathered industry stakeholders from various trade associations, companies, environmental groups, and government agencies to discuss the importance of reasonable, responsible, and environmentally friendly offshore energy development off the Atlantic coast. 
In addition to Director Hopper, panelists include Hayes Framme, Advisor for Infrastructure and Development to the Virginia Secretary of Commerce and Trade; Glen Besa, Director of the Sierra Club – Virginia Chapter; Michael Ward, Executive Director of the Virginia Petroleum Counsel; Jay Ford, Executive Director of the Virginia Eastern Shore Keeper; Dale Bennett, President & CEO of the Virginia Trucking Association; Brett Vassey, President & CEO of the Virginia Manufacturers Association; Randall Luthi, President of the National Ocean Industries Association.
The forum focused on offshore wind and oil & gas development and protecting the environment.  As a part of his remarks, David Holt, President of Consumer Energy Alliance, said that "If you look around this room, every single thing your eyes touch is made with oil and gas.  It is incumbent upon us to protect the environment AND ensure that we pass on a good standard of living to our children and grandchildren. We cannot have environmental protection without energy development."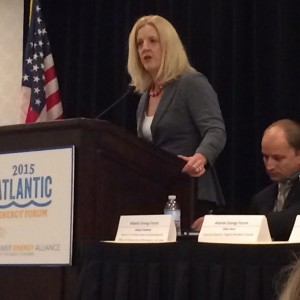 BOEM Director Abigail Hopper agreed, adding "…it is not one or the other, we are trying to address these issues from all fronts… the big question is how do we safely develop the resources this nation has been blessed with… and there are only so many ways to say this but we are pursuing and all-of the-above energy policy."
Randall Luthi added that, "you can have it all, you can have oil and gas and be environmentally friendly at the same time." 
Dale Bennett captured the mind of both the transportation and manufacturing industry by discussing the importance of oil price stability on the industries, and upon the costs that are passed onto consumers.  Bennett said, "Development cannot be jumpstarted at the last minute, we must start now to ensure a bright energy future for America."
The panel made it clear that the American economy will depend on Atlantic fossil fuels and offshore wind energy for the foreseeable future, but that it should be and can be done in a reasonable, responsible, and environmentally friendly way that ensures a bright future for the Atlantic coast and the American people.