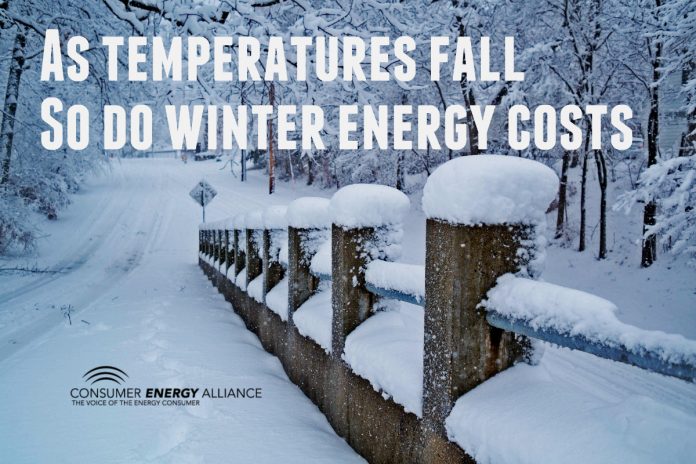 Add this to the list of things to be thankful for this coming Thanksgiving.
Thanks to America's ongoing energy revolution, American consumers no longer have to break the bank when filling up their gas tanks. They won't have to break the bank to keep their homes warm and toasty this winter either.
The Energy Information Administration (EIA) projects that U.S. heating costs from October to March will be the lowest we've seen in years. The reasons vary. A projected cut in residential electricity consumption is one. Slightly warmer forecasted temperatures are another.
But the biggest reason is the record amount of production flowing out of U.S. shale formations, which has boosted inventories and significantly lowered oil and natural gas prices heading into winter. In fact, "storage inventories will total 3,956 billion cubic feet, which would be a record high,' the EIA said.
Here's the breakdown of how much Americans, on average, will save, based on their choice of heating fuel:
Natural gas users will save $64.
Propane gas users will save $322.
Heating oil users will save $459.
Electric heat users will save $30.
Expenditures will differ by region. Natural gas is the primary heating fuel in every region of the country except the South, where electric heating is more widespread. Altogether, nearly half of U.S. households are heated with natural gas. Heating oil, meanwhile, is more common in the Northeast, while propane use is larger in the Midwest.
Even better, prices will remain cheap at the pumps, too, officials said.
"December's expected national average gasoline price of $2.03 a gallon would be the lowest average retail price for the month in seven years," said administrator EIA Adam Sieminski, according to The New York Times, continuing a consumer-friendly trend that started nearly a year ago.
There's more good news, The New York Times reports:
"Lower energy prices should be particularly helpful to working-class families who spend a high proportion of their incomes on fuels. Much of their additional spending power should help restaurants and retailers. Many industries, including airlines and manufacturers of petrochemicals, chemicals and plastics, should also benefit from the lower energy costs."
These are all reasons why we must ensure that new over-the-top regulations, like the EPA's controversial Clean Power Plan, don't erode the progress we've made and unnecessarily drive up energy costs. America's energy renaissance has made gas, electricity, heating, and countless consumer goods less expensive, all the while mass-producing millions of jobs and billions in revenue. Our energy security is stronger than ever. So is our global competitiveness.
And maintaining a safe, reliable all-of-the-above energy strategy that includes oil, coal, natural gas, nuclear and renewables like solar and wind is the only way to keep it going.