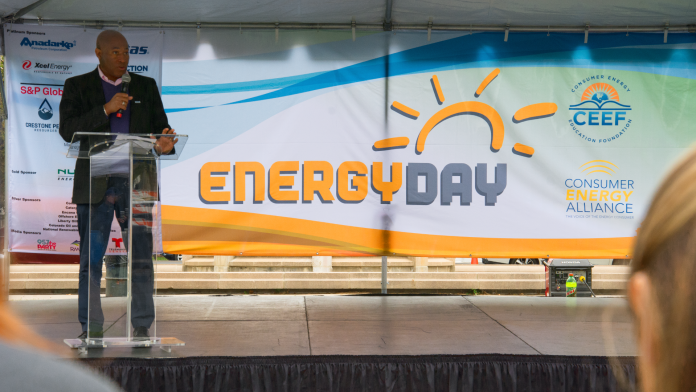 DENVER, CO. – Despite the cold weather, children, parents, and families joined Consumer Energy Alliance (CEA) and over 54 organizations to celebrate the state's first annual Energy Day Festival, a STEM and energy education event, at East High School in Denver on Saturday, September 23rd.
Attendees also included educators and local officials who saw 40 interactive exhibits highlighting a wide range of educational institutions and energy companies – from renewables and utilities to oil and gas – that came out to showcase various types of energy production, technology, and efficiencies within the energy industry. These companies and organizations play a dynamic role in Colorado's robust economy and energize communities across the state. As a one-of-a-kind event, Governor Hickenlooper, through the Colorado Energy Office, proclaimed Saturday, September 23rd as Energy Day in Colorado.
More than just promoting interest in energy and STEM education, Energy Day also presented 19 students and a teacher with scholarship awards for their achievements within the classroom and in various science competitions across the state. In addition to the day's exhibitors and awards ceremony, guests were treated to food from local food truck vendors and music from 95.7 The Party.
With the help of Energy360, Consumer Energy Alliance organized and supported this important inaugural event. Following the day's festivities, CEA Chief Operating Officer, and local Colorado resident, Andrew Browning issued the following statement:
"Denver and the state of Colorado have become not only a leader in energy development, but a leader in STEM and energy education. With so many energy types supported in the state, it is important for the youth in our communities to understand the education needed through science, technology, engineering and mathematics that can help to develop future careers."
"We had an exceptional variety of educational institutions, energy companies, and organizations focused on conservation and efficiency dedicated to showcasing not only the opportunities there are across the energy industry for students who are motivated within STEM, but how fun those jobs can be if they apply themselves."
"With more people within the oil and gas sector retiring and as the renewable sector continues to grow, there are a wealth of opportunities for the future generation of energy experts. CEA is extremely pleased with our inaugural Energy Day and we look forward to building and expanding the event with our partners and sponsors in the years to come."
Browning also added: "These exhibitors really went the extra mile to ensure kids and their families had fun. All of the exhibits demonstrated how technology and efficiencies have helped lead these industries forward. From the technologies that help these companies operate to schools who presented fun ways to understand robotics and physics – these organizations also helped teach participants about fun ways to conserve and be more energy efficient through quizzes and displays. With how focused Coloradoans are on STEM education and our future, it is no doubt that this will be an event our community can stand behind."
Some of this year's sponsors dedicated to STEM education and energy included, Vestas, PDC Energy, S&P Global, Anadarko, Xcel Energy, Extraction Oil & Gas, Crestone Peak Resources.
To view photos from this year's Energy Day Colorado click here, or to receive more information about how to participate in next year's Energy Day, please visit www.energydayfestival.org.
###
About Consumer Energy Alliance
Consumer Energy Alliance (CEA) brings together families, farmers, small businesses, distributors, producers and manufacturers to support America's energy future. With more than 450,000 members nationwide, our mission is to help ensure stable prices and energy security for households across the country. We believe energy development is something that touches everyone in our nation, and thus it is necessary for all of us to actively engage in the conversation about how we develop our diverse energy resources and energy's importance to the economy. Learn more at ConsumerEnergyAlliance.org.
Media Contact:
Emily Haggstrom
P: 720-582-0242
ehaggstrom@consumerenergyalliance.org