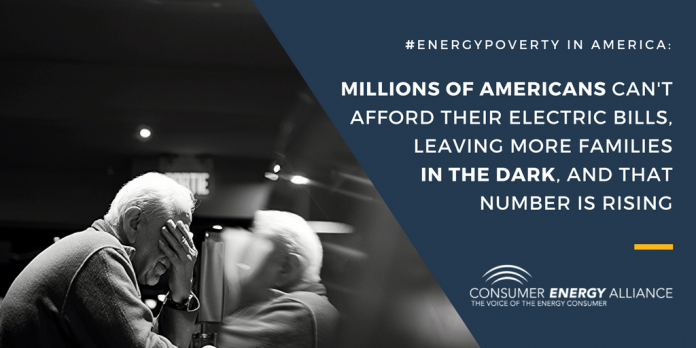 For Americans living near or below the poverty line, basic necessities like electric power can break a budget. In some jurisdictions, landlords can evict tenants for unpaid utility bills and social services can take away children. For some American families, energy poverty can strike first and push them into complete financial poverty, leaving their children and grandchildren at a disadvantage.
Over 900,000 families lost power in Texas alone last summer because of unpaid utility bills, almost triple the number from a decade ago. California broke their previous record last year with 714,000 homes losing electricity, as the average price for residential power rose 18 percent between 2007 and 2016. Millions of families across the United States live in energy poverty, and desperately need affordable power. At Consumer Energy Alliance, we believe that an all-of-the-above energy policy is the key to ensuring reliable power is available to everyone who needs it. Learn how we can make energy more affordable to Americans in poverty.
"It's indicative of an economy that's still recovering," said Katrina Metzler, executive director of the National Energy and Utility Affordability Coalition in Washington. "Underemployment is still common, and many families live paycheck to paycheck." About 10 percent to 15 percent of people who are disconnected never get reconnected, according to the Utility Reform Network, a San Francisco-based consumer group also known as TURN.

While the U.S. jobless rate fell to a 16-year low of 4.2 percent last month — compared with 10 percent in 2009 — many Americans are struggling. Forty-four percent of adults told the Federal Reserve Board of Governors last year that they wouldn't be able to cover a surprise $400 expense or would have to sell something or borrow to raise the money.
Read More – Bloomberg