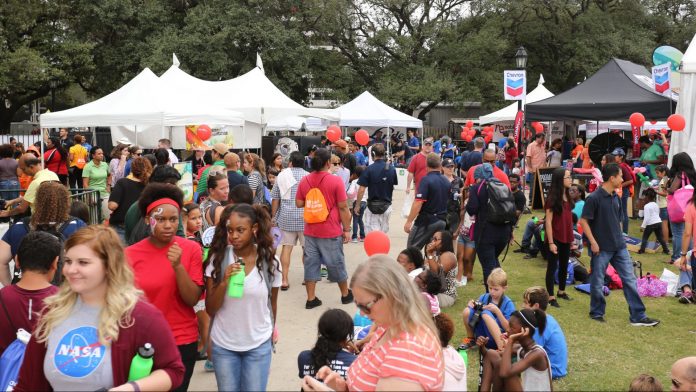 HOUSTON – October 21, 2017 – Families, students, educators, and local industry leaders turned out in droves Saturday to set yet another attendance record at Houston's seventh annual Energy Day Festival, hosted by Consumer Energy Alliance (CEA) and the Consumer Energy Education Foundation (CEEF).
The free event – which centered on educating attendees about the importance of improving science, technology, engineering and mathematics (STEM) education – also recognized the impact Hurricane Harvey had on Houston-area schools, families and communities. The festival culminated with a $10,000 donation by CEA and CEEF to three schools in the Pasadena Independent School District hit hard by the historic hurricane.
More than 55 interactive exhibits and demonstrations, from several of Houston's leading companies – including ConocoPhillips, Chevron, TransCanada, Caterpillar, BHP, Golden Pass LNG, Direct Energy, Cheniere and the University of Houston – were on hand to greet, educate, and entertain, what police estimated to be, the roughly 30,000 people who attended – a new record for the event.
"With more than 30,000 festival attendees, Energy Day has become a fixture in championing local Houston STEM efforts, as we work to develop the well-rounded and greatly needed workforce of tomorrow," CEA President and Energy Day organizer David Holt said. "Efforts and events such as these encourage students to not only pursue these essential workforce skills, but they also inspire them to think outside the box and deliver the creativity and innovation needed to secure a sustainable, affordable energy future."
This year, Energy Day hosted a new contest for teachers, where educators submitted lesson plans based on a STEM concept they saw implemented. The top three lesson plans were awarded gift cards for their efforts to create new unique ways to get children excited about STEM in the classroom.
Since the Energy Day Academic Program began in 2011, CEA and CEEF have awarded nearly $100,000 to more than 670 K-12 teachers and students at the Energy Day Festival. This year, they awarded nearly $17,000 to more than 145 students and teachers – a number that breaks the previous Energy Day donation record.
The next Houston-based Energy Day is scheduled for Saturday, October 20, 2018. A similar event was held last month in Denver.
For more information on the festival, visit energydayfestival.org/houston.
###
About Consumer Energy Alliance
Consumer Energy Alliance (CEA) brings together families, farmers, small businesses, distributors, producers and manufacturers to support America's energy future. With more than 450,000 members nationwide, our mission is to help ensure stable prices and energy security for households across the country. We believe energy development is something that touches everyone in our nation, and thus it is necessary for all of us to actively engage in the conversation about how we develop our diverse energy resources and energy's importance to the economy. Learn more at ConsumerEnergyAlliance.org.
Contact:
Emily Haggstrom
P: 720-582-0242
ehaggstrom@consumerenergyalliance.org