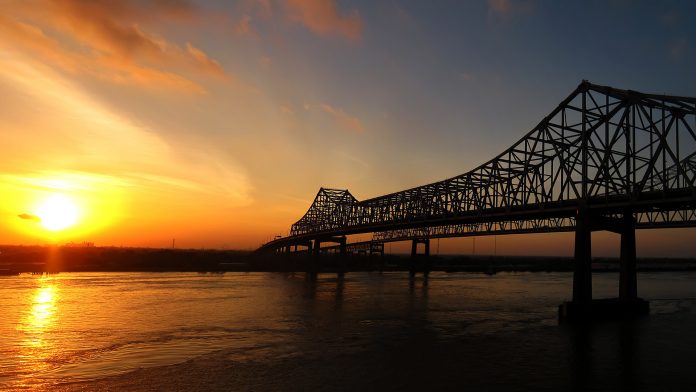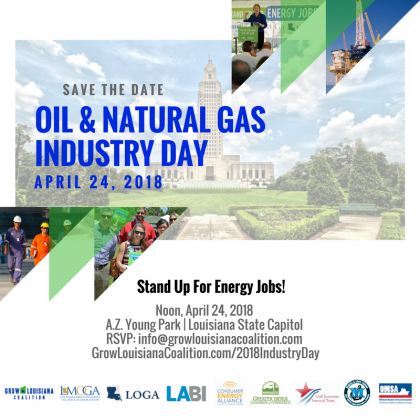 BATON ROUGE — Consumer Energy Alliance (CEA), a national advocate for families and consumers of energy, today announced its support for the Grow Louisiana Coalition's 2018 Oil & Natural Gas Industry Day on Tuesday, April 24, 2018 at 12 noon at the A.Z. Young Park, Louisiana State Capitol. The event provides an opportunity for business leaders, government officials, and the community to learn more about the energy industry and the critical role it plays in Louisiana, now and in the future, through new technology and innovation that is vital for the sector to thrive and grow.
"Consumer Energy Alliance is pleased to support the 2018 Oil & Natural Gas Industry Day and efforts to educate families, communities and businesses about the critical role energy plays in the state," said Link Browder, CEA Mid-Continent Executive Director. "It's clear that a strong energy industry is a buoy to the entire state. It not only supports jobs for Louisianans in both energy and non-energy fields, but it also helps provide family supporting wages that allow families to pay down their mortgages, buy groceries, and fill prescriptions."
A recent report released by the Grow Louisiana Coalition found that the energy sector is a giant economic engine for the state, continuing to be the foundation of the state's economy.
Findings from the report include:
Oil and gas industries supported $72.8 billion in sales in Louisiana firms, generated over $19.2 billion in household earnings for Louisianans and supported 262,520 jobs in 2015.
On average, the job multiplier for these three industries was 4.4 – or for every job created in these sectors, 3.4 additional jobs are created in other sectors in the state.
Through the $19.2 billion in household earnings, the state government indirectly was able to collect an additional $1.34 billion in taxes, for a total of $2 billion boost to the state treasury.
The three industries directly paid $382.8 million in ad valorem taxes to local governments, enough tax revenue to support nearly 7,700 public school teachers in 2016.
Browder added, "Energy also generates revenue that helps the state fund essential public services and maintain and repair vital local infrastructure. Even tourism and recreation benefit from opportunities by making it more affordable to travel to the state's featured attractions. Without the good-paying jobs, economic activity, and affordable, reliable fuel and electricity that are created by a strong Louisiana energy sector – families, communities, and businesses across the state would pay a heavy price."
###
About Consumer Energy Alliance
Consumer Energy Alliance (CEA) brings together families, farmers, small businesses, distributors, producers and manufacturers to support America's energy future. With more than 500,000 members nationwide, our mission is to help ensure stable prices and energy security for households across the country. We believe energy development is something that touches everyone in our nation, and thus it is necessary for all of us to actively engage in the conversation about how we develop our diverse energy resources and energy's importance to the economy. Learn more at ConsumerEnergyAlliance.org.
Contact:
Emily Haggstrom
P: 720-582-0242
ehaggstrom@consumerenergyalliance.org