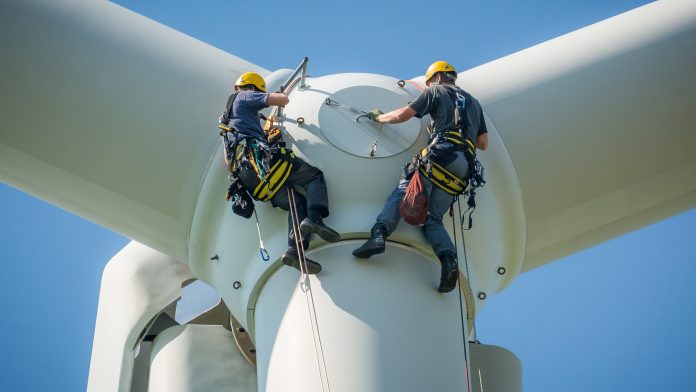 There is a large and growing debate in circles across the country and around the world on whether we should or can move to 100 percent renewables or a zero carbon future. No matter where you lie, industry folks from both side of the coin tend to agree – it's not that we all wouldn't like to get there, it's more like how do we do it?
Employees and supporters of oil and gas don't claim they are superior fuels just that we use them in most things we make and do. A simple acknowledgment that as we work towards finding solutions for the future that we think about everything that is tied to energy development. Similarly, renewable energy employees and supporters acknowledge that switching to 100 percent renewables now is not possible. The fact remains – both of these industries need each other.
In fact, traditional energy sources can really complement and partner with renewable energy sources to help us continue moving forward to meet our nation's goal to reduce our emissions while diversifying our country's energy portfolio.
Traditional and renewable energy may seem like opposites, but that can be a good thing. Our energy mix and how we best utilize all of our natural resources is sort of like putting together a big puzzle. When you first open it there are 1000 tiny pieces. Some are upside down, some are backward – you have to look for the edges and the middle as you start to get organized, but you know, somehow, they will all fit together. And with enough time, patience and strategy, they'll all eventually fit together perfectly."
It's true, our big picture conversations about energy have become politicized and turned into one side vs. the other. Whatever happened to all-of-the-above? Was it a passing fad? It shouldn't have been – because energy isn't political.
It turns out renewable energy actually needs traditional energy. That's right, energy grows energy.
For example, wind and solar can be great energies to harness when the wind is blowing and the sun is shining.  But there isn't a battery big enough to store its power for nightfall or when the weather turns. Both wind and solar need backup power sources and energy experts at the Massachusetts Institute for Technology (MIT) have pointed to natural gas because of its many flexible attributes. Gas power plants have quick "ramp up" capabilities, which means they can be turned on in a matter of minutes to generate electricity whenever it's needed.  Because let's face it, we want the lights to come on regardless of the weather outside or what time of day (or night) it is.
And that could work really well in a state like New Mexico that has both great sun and great wind. The American Wind Energy Association (AWEA) recently touted the $2.9 billion that's been invested in New Mexico's wind industry and dubbed it a "rising star" because it's adding wind power capacity faster than any other state in the country. According to AWEA, wind power, the largest source of U.S. renewable electricity generating capacity, now supplies more than 30 percent of the electricity in four states, Iowa, Kansas, Oklahoma, and South Dakota.
Thankfully New Mexico is ready to back that wind up with a whole lot of natural gas they are already producing right in there in their state. The Permian Basin that straddles the Texas-New Mexico border is BOOMING with oil production, and where you have oil, you also have gas.  Companies are now wondering what to do with all the natural gas their producing. We know! "Hello gas, meet wind."  This potential partnership could be incredible for New Mexico.
And here's our favorite bipartisan part.  In a joint statement, New Mexico's congressional delegation — Democratic Sens. Tom Udall and Martin Heinrich, Republican Rep. Steve Pearce and Democratic Reps. Ben Ray Luján and Michelle Lujan Grisham — applauded the growing wind industry.  The three Members of Congress may differ on a lot of political issues, but here's one they could all agree on.  I guess it's true when they say opposites can attract. At least with energy they can.