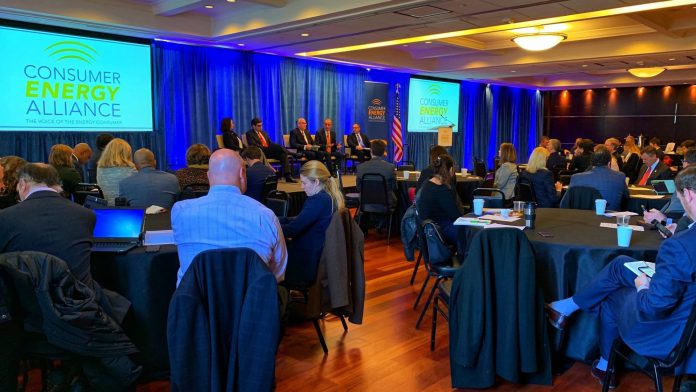 WASHINGTON, D.C  —  Consumer Energy Alliance (CEA), a national advocate for energy consumers, today hosted "The Future of Electricity Forum" in Washington, D.C., with a keynote speech by U.S. Secretary of Energy Rick Perry. The event featured various energy policy experts who spoke about the current power system in the United States, the future of the electrical grid and America's energy sector.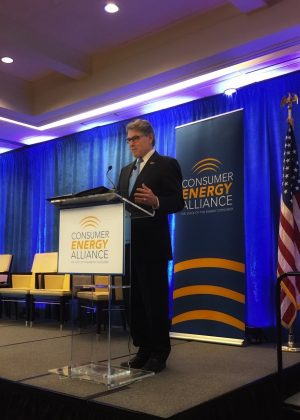 During the presentation, speakers from across all fuel types stressed the need for an all-of-the-above energy strategy that does not pit fuel sources against each other. They also discussed their primary concerns surrounding grid reliability and resiliency, and how technological innovations are modernizing the American energy sector.
Perry was joined by the following business leaders, policymakers and organizations:
Michelle Bloodworth, President and CEO, ACCCE
Marc Brown, President, New England Ratepayers Association
Kevin Knobloch, President of New York Ocean Grid LLC, Anbaric Development Partners
John Berger, President and CEO, Sunnova
Stacy Derstine, Vice President of Customer Service and Chief Customer Officer, APS
William Murray, Vice President of State and Public Policy, Dominion Energy
Kirk Johnson, Senior Vice President Government Affairs, NRECA
Matt Crozat, Senior Director for Policy Development, NEI
Michael Whatley, Executive Vice President, CEA
At the event, Secretary of Energy Rick Perry stated that:
"Today, consumers have more choices, more information, and more say in their energy choices than ever before. Whether you're an individual consumer here in the U.S. or an energy importing country like those I just recently visited in Central Europe, your choices are plentiful and increasing.  And much of that is due to the innovation that is led and supported by the Department of Energy."
Whatley highlighted the importance of leaders coming together to discuss the future of our country's electricity.
"The conversation on grid reliability, resiliency and security is critical because we need states, utilities and the federal government looking for long-term solutions to the challenges and risks that are facing the grid today," Whatley said. "We are no longer asking whether renewables are going to be a significant factor in our electricity mix. Instead, we have to ask how are we going to incorporate them into our fuel mix in a way that will increase reliability and keep costs lower for energy consumers. It is vital for policy makers to look at how new technologies are changing the energy landscape and lead our nation towards more innovative energy solutions."
Bloodworth on resiliency of the grid following fleet retirements across the country:
"Over the past several years, some 40 percent of the U.S. coal fleet has either retired or announced plans to retire.  Due to the continued retirement of the coal fleet, federal and state officials along with industry stakeholders are raising serious concerns about the resilience of the electric grid. I appreciate the opportunity to participate in CEA's Forum to share my perspective on the important work that policymakers can undertake to ensure we preserve the existing coal fleet. Coal is an affordable, reliable, and fuel secure energy resource that provides almost one-third of our nation's electricity."
Brown discussed the importance of having a more rationale energy policy:
"Too often regulators and elected officials do not understand or appreciate the impacts that political policies are having on our energy markets. As a result, we as a region, and even nationally, are headed down a path of increased costs and decreased reliability," Brown said. "Businesses, families, generators, utilities and anyone concerned about the escalating costs of electricity should join to fight for less government interference and more open energy markets."
Berger highlighted the changing landscape of the country's power mix as it relates to solar energy:
"The U.S. energy system is changing rapidly due to pressures from consumer demand, energy preferences and advancing technology. It's time for a wholesale rethinking of the current energy system, rather than trying to fit innovation into the status quo." He concluded saying, "Let's build an energy system for the 21st century that will ultimately result in cheaper, cleaner and more reliable energy options for consumers."
Knobloch spoke about investments being made up the Eastern seaboard:
"The rapid growth of land-based wind energy and the emerging promise of offshore wind at scale and increasing affordability is exciting, but to fully realize this powerful new economic sector we must thoughtfully plan now for modern transmission infrastructure that can efficiently deliver those clean electrons to the American factories, businesses and homes that need them."
Derstein with APS touted the rapid growth and the need for storage:
APS is at the forefront of developing solar resources and has one of the largest solar portfolios in the nation, with 1.6 gigawatts of solar capacity on our system, and we aren't stopping there. We are setting the course for a sustainable energy future for our customers – leading the solar-plus-battery-storage effort, advancing innovation, updating service plans and doing ground-breaking research to allow solar energy to be stored and used over longer periods of time while maintaining reliability and cost effectiveness for our customers.
###
About Consumer Energy Alliance
Consumer Energy Alliance (CEA) brings together families, farmers, small businesses, distributors, producers and manufacturers to support America's energy future. With more than 500,000 members nationwide, our mission is to help ensure stable prices and energy security for households across the country. We believe energy development is something that touches everyone in our nation, and thus it is necessary for all of us to actively engage in the conversation about how we develop our diverse energy resources and energy's importance to the economy. Learn more at ConsumerEnergyAlliance.org.
Contact:
Emily Haggstrom
P: 720-582-0242
ehaggstrom@consumerenergyalliance.org