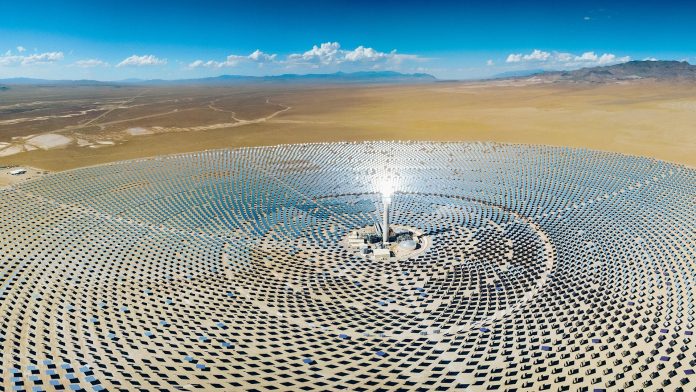 When we think of deserts around the world, we tend to think of extreme temperatures. Scorching hot temperatures during the day and freezing cold drops at night, but usually relatively clear skies. The Mojave Desert in Nevada is no different, making it a great place for investment in solar. With 300 days of sunlight each year, the Silver State is able to take advantage of its own abundant resource, collecting and converting enough sunlight into usable energy that produces roughly 354 megawatts worth of energy – enough to power approximately 53,000 homes in Nevada. It is because of large-scale solar projects in the desert, just like this, that more people around the world have hope of accessing affordable energy, including populations in 46 countries around the world.
For half of the world that's living on or less than $5.50 a day, purchasing solar panels is not even an option. This isn't just the case for global populations, this is something people in urban areas or who are at a lower income bracket experience as well. The choice between wanting to contribute to decreasing global emissions levels or feeding, clothing, and providing a home for their families. Fortunately, these utility-scale solar projects offer an opportunity for those who normally would not be able to afford their own systems to access a cleaner energy source at an affordable rate.
While solar is a source of energy, it is also a source for jobs. Just north of Las Vegas lies the third-largest solar plan in the world – providing power to casinos, hotels, restaurants, and 14,000 homes a year! It's not just tourism that has contributed to job growth in Nevada, with 30,207 solar installations across the state, skilled laborers are needed to assemble, install, and maintain these systems – paying individuals with titles like Solar Photovoltaic Installers $20 an hour. Already, roughly 7,000 Nevadans are employed within the solar industry, and there is room for more job creation as community gardens and large-scale solar continues to grow.
Nevada serves as an example for other states when it comes to taking advantage of their sunny skies and desert landscape. America, with the most deserts of anywhere in the world, has the ability to tap into the abundance of solar power and give consumers an opportunity to receive their energy at an affordable rate, no matter their income class or housing situation.
While sunshine happens every day at no cost to us, converting that sunshine into energy is not free – a PV system can take 10 years to pay for itself. It's important as we continue to support advancements in technology that help to make solar energy more affordable and reliable that we consider ways where everyone has the opportunity to use a cleaner source of energy if they choose.
*Update: The Trump administration has approved this project, construction to begin in 2020.