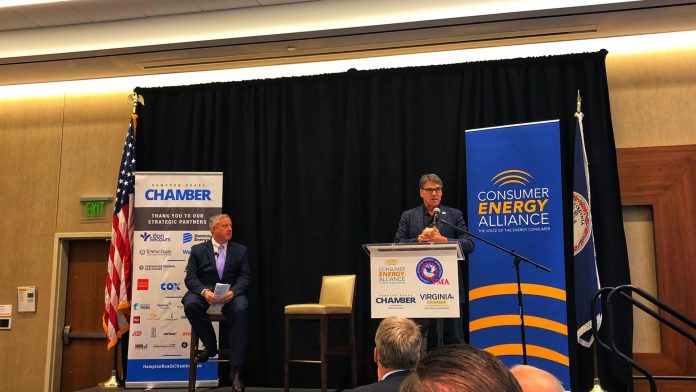 NORFOLK, V.A. — Domestic energy production and expansions in infrastructure continue to be a must-have for American energy dominance and national and economic security, benefitting American families, small businesses and the environment, including those in Virginia, U.S. Secretary of Energy Rick Perry said today at an energy and security summit hosted by Consumer Energy Alliance (CEA) in Norfolk, V.A.
Perry was joined by the following local and national business leaders, policymakers and organizations to discuss the need for sensible energy solutions that includes the growth of all available U.S. resources – traditional and renewable – and the expansion of its infrastructure network to grow jobs, further expand the economy and fortify U.S. global competitiveness, all while safeguarding the environment:
State Sen. Frank Wagner
Bryan K. Stephens, President & CEO, Hampton Roads Chamber
Brett Vassey, CEO, Virginia Manufacturing Association
Michael Whatley, Senior Executive Vice President, Consumer Energy Alliance
At the event, Perry projected that the U.S. will be a net energy exporter by 2020.
"We are already energy dominant now," he said. "We're seeing a 1-million-barrels-a-day increase from 2018 to 2019, and the third-largest oil field in the world is the Permian Basin, in West Texas," Perry said. "It's stunningly prolific because of technology and innovation. Its success is due to pipeline infrastructure."
Whatley said that thanks to the energy revolution unfolding locally and nationally – courtesy of increased production and new technologies – energy consumers from coast to coast have increased disposable income, job growth and economic investment; decreased or stabilized household energy costs; and helped revitalize their communities.
"The key is maintaining an all-of-the-above energy strategy, here and nationally, that urges the growth of all resources and the expansion of all energy infrastructure," Whatley said. "Such a game plan will help lower energy costs for cash-strapped families and small businesses countrywide and provide stronger opportunities for manufacturers and businesses to create jobs for those who need it most."
Vassey concurred, saying that "in this commonwealth, we are proud that we still make and move things."
"I believe if you dream it, you can do it," he added. "We are doing great things, but we still need to grow our energy capacity to remain competitive. Today, I am proud to help champion the values of affordable, reliable energy."
###
About Consumer Energy Alliance
Consumer Energy Alliance (CEA) brings together families, farmers, small businesses, distributors, producers and manufacturers to support America's energy future. With more than 500,000 members nationwide, our mission is to help ensure stable prices and energy security for households across the country. We believe energy development is something that touches everyone in our nation, and thus it is necessary for all of us to actively engage in the conversation about how we develop our diverse energy resources and energy's importance to the economy. Learn more at ConsumerEnergyAlliance.org.
Contact:
Emily Haggstrom
P: 720-582-0242
ehaggstrom@consumerenergyalliance.org