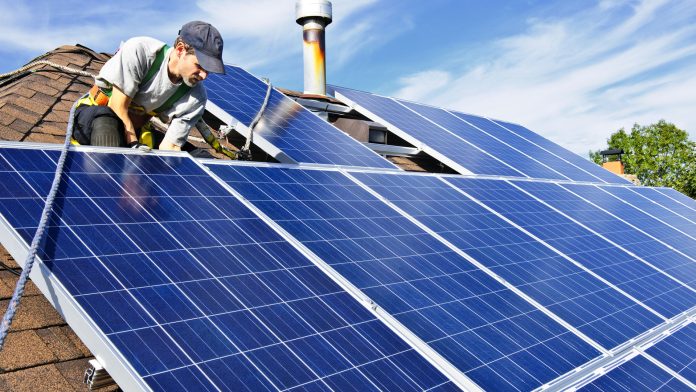 Louisville, KY – Consumer Energy Alliance (CEA), the leading consumer energy advocate, released the following statement after the final passage of Senate Bill 100 (SB 100), which would direct the Kentucky Public Service Commission to set incentive rates for new solar program participants that install rooftop solar and the additional power they generate back onto the grid.
"CEA would like to thank the Kentucky House of Representatives for its bipartisan support on this important measure which will help modernize the Commonwealth's solar incentive program and expand the use of solar across Kentucky. It will also serve to protect existing customers and to expand the size of systems eligible to participate in the program by 50 percent," said Brydon Ross, Vice President of State Affairs for CEA.
"CEA has long advocated for pro-solar, pro-grid and pro-consumer policies that will ensure the long-term viability and growth of solar deployment while also ensuring the costs to maintain our electric grid, which we all rely on, are fairly allocated."
"Senate Bill 100 takes a common-sense approach by directing Kentucky's Public Service Commission – the regulators with the technical expertise – to determine how best to expand solar use and the incentive rates for future customers. At a time when the solar industry is growing dramatically and seeing the cost of installations decrease, it is critical to set a solid framework to ensure solar's growth and the proper maintenance of the grid for all electricity customers. These are all positive developments that will benefit consumers and small businesses who adopt solar, and the goal should be to ensure that we continue to grow, and deploy, solar and bring costs down."
Ross added: "We want to thank Senator Brandon Smith for sponsoring this important bill and for the leadership of Representative Jim Gooch and Senator Jared Carpenter and the leadership in both chambers for advancing SB 100. It protects existing customers by grandfathering them in for 25 years and non-solar customers alike – this is a win for Kentucky consumers, families, and small businesses."
###
About Consumer Energy Alliance
Consumer Energy Alliance (CEA) is the leading consumer advocate for energy, bringing together families, farmers, small businesses, distributors, producers and manufacturers to support America's environmentally sustainable energy future. With more than 550,000 members nationwide, our mission is to help ensure stable prices and energy security for households and businesses across the country. CEA works daily to encourage people across the nation to seek sensible, realistic and environmentally responsible solutions to meeting our energy needs.
Contact:
Emily Haggstrom
P: 720-582-0242
ehaggstrom@consumerenergyalliance.org