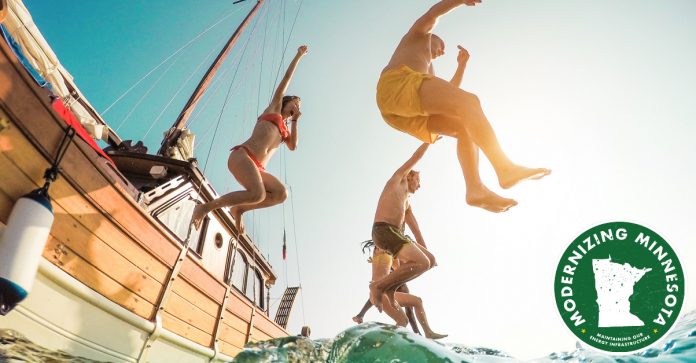 Here in Minnesota, we like our beer cold, our hotdish piping, and our Walleye light and flakey to perfection. Maybe many outsiders shiver at the thought of our average 20-something degree temperatures in winter, but they sure love the long warm days of summer.
According to the Outdoor Industry Association, 70% of Minnesota residents participate in outdoor recreation each year. At 140,000 jobs with an economic impact of $16.7 billion annually, more jobs in Minnesota depend on outdoor recreation than on hospitals and health systems. Uff-da, that's a lot!
In fact, 73 million visitors made overnight and day trips in 2017. Of those, 523,600 were Canadian, and another 456,800 were international visitors. That's just for Minnesota. Travel across the country has increased by 5.8 percent in the last four months, and international travel has increased by 4.7 percent over the previous year. Let's face it; there is no better way to escape the day-to-day routines of our lives than to interact with new people and cultures, all while eating new food than traveling. So why not Minnesota?
There is so much to do all across the state. While winter and fall command their fair share of travelers, it is summer that brings more people to the state. Moreover, when it comes to the outdoors and energy, there's one thing they both have in common. To be responsible.
Whether it's for small outdoor stoves, battery-powered lanterns, or a solar-powered radio to accompany you on boating, hiking or fishing trip, energy is ingrained into all of our outdoor recreations. Responsible clean up after one of these trips is a practice each one of us tries to implement each time we're out. Likewise, energy companies aim to produce, and transport, energy while protecting – and sometimes improving – the environment they operate in. Pack it in, pack it out and leave no trace is a motto both industries can, AND DO support.
That's why the plan to replace and upgrade Line 3 makes sense.
Upgrading the Line 3 pipeline will provide tremendous economic benefits with over $2.1 billion in new investment and over $330 million in new payroll for workers in Minnesota. Local communities that rely on tax dollars provided by the pipeline to help fund schools, roads, and first responders would also see significant new revenues for construction and related activities.  According to a study by the University of Minnesota Duluth, the Line 3 Replacement project will create 8,600 jobs – with 76 percent being local.
Even better, experts in engineering widely agree that pipelines are the safest, most economical and environmentally-friendly means of moving large volumes of liquids. Alternatives to pipelines often include using trucks, rail or sometimes boats and barges, all of which pose a higher risk for spills or accidents, not to mention they can add additional traffic to our roads and waterways.
Pipelines are also buried underground, which means less impact on the surface. In fact, there are more than 2.4 million miles of buried pipelines in the United States, sitting beneath our homes, cities, and farmland.  After a pipeline is buried, the lands are reclaimed and reused for other purposes, including outdoor recreation. And yes, they can even safely go under rivers and lakes.
That means you, or anyone could be fishing right above one right now. So, the next time you're out enjoying your next adventure, remember the link between energy and the outdoors.  Without it, our experiences just wouldn't be the same.