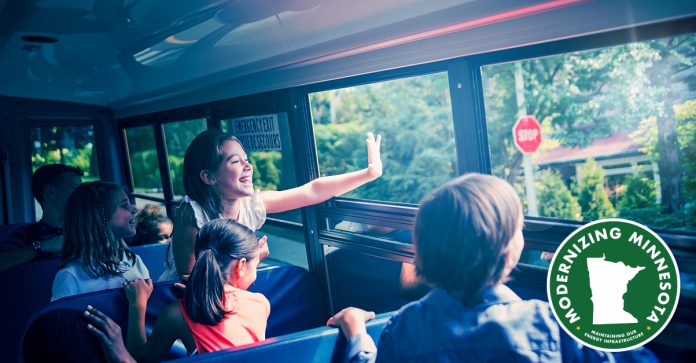 Public schools are far from perfect, but they offer significant benefits we probably overlook each day. Unless you really stop to think about it, those benefits are probably taken for granted. Whether you're a parent or a student, you benefit.
Here's why. The bus transportation for public schools.
Each weekday morning, millions of school children across the country ride a few of those familiar, big, yellow buses that shuttle students on their way to school. According to the American School Bus Council, school buses safely deliver more than 25 million children to school each day. Heck, you may even remember taking one yourself.
If you happen to be a parent of a school bus rider, you're probably doing something that doesn't allow you to drop your kids off at school. You might be headed to your own job simultaneously, grocery shopping, or taking on any number of daily errands. The average school bus holds about 40 children, which means there are 39 fewer vehicles on the road with you – and less traffic is pretty much always a good thing,
Fewer cars on the road also mean fewer emissions released into the air, and therefore better for our environment. As modern school bus fleets move towards alternative fuels like cleaner diesel engines or clean-burning natural gas, the benefits to our air quality will only get better.
School buses also give access to all children, and they're usually pretty convenient. Plus, not everyone can afford, or even wants, to own their own vehicle. Some opt for an urban lifestyle, which means condensed living and walkable areas close to shopping, dining, and car-sharing services for the times they do need or want a vehicle for a short, temporary time. While living closer to the city may mean higher home or living prices, that cost can be offset through the savings of not paying for a vehicle and its maintenance, insurance, and fuel.
As noted at Governing.com, an estimated 8.7 percent of U.S. households were without vehicles in 2016. Car-free households are generally much more common in densely-populated urban areas, and high poverty neighborhoods, where residents can't afford to own a car. Research also suggests that younger families and single-person households are more likely not to own a car. Tack on the idea of driverless vehicles in the future and many more may opt to ditch personal cars in the future.
Despite the occasional incident on the news, buses are indeed safer. They were designed with student safety in mind and specific school bus safety laws such as always stopping at the flashing stop sign attached to the bus when children are loading or unloading help keep our kids safe. The sides of school buses are reinforced steel to protect passengers in a crash, and the high seat back is there to protect drivers during an impact. Parents who think that their children are safer if they drive them to school should consider this: students are about 70 times more likely to get to school safely when taking a bus instead of traveling by car.
Riding a bus to school each day can also teach children time management. Effective and efficient time management is critical to capitalize on the benefits of school buses and the tight timelines they keep. It may also teach them to be more responsible by waking up early, or on time, so they can prepare the things they need for school. Who can argue with a benefit like that?
However, none of these benefits would be possible without drivers and the energy needed to get students to school safely, and on time.