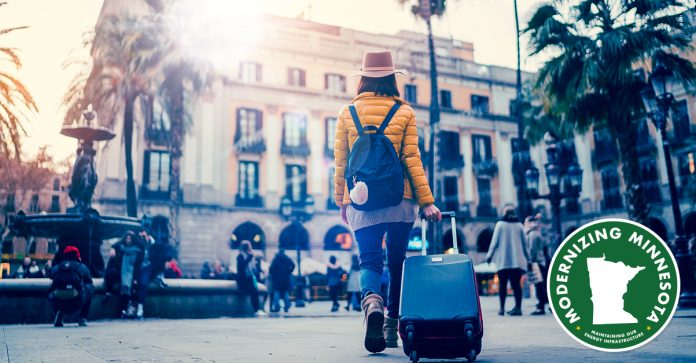 With an average of 100 days of snowfall per year in Minnesota, it's fair to say that some of us regularly contract cabin fever. And even though we love our state, it's still a source of everyday antics that, sometimes, we'd like to escape. Sure, we love our state and embrace a good hygge, a cozy winter storm, and a day at the lake, but sometimes you just want to get away.
Traveling to somewhere warm (and different) to escape the monotony of our day-to-day routines is a welcome reprieve. It's a way to reset, see someplace new, and unwind, and there's no better way to travel than flying like the birds.
Back in the early 1990s, Minnesotans who regularly traveled south for the winter for long periods (think months, not a week's vacation) helped coin the term snowbird.  A snowbird is usually an older, retired person who enjoys – or possibly benefits health-wise – from being in a warmer climate during Minnesota's harsh winter months. Now, more than ever, individuals and families have the ability to travel. These adventures help us see new places, better understand new cultures and see the world through a new perspective.
According to the annual Airlines for America report, almost 50 percent of travelers in the United States flew on an airline in 2017, and nearly 90 percent of survey respondents have taken a commercial flight in their lifetime. On average, Americans took about three airline trips for 2017; many took more than five airline trips for the year.
More Americans are turning to the skies, and Minnesota is no exception. According to the Energy Information Administration (EIA), in 2017 alone, Minnesota burned about $250 million worth of jet fuel flying folks in and out of the state. During this same period, a record 38,034,341 passengers traveled through Minneapolis-St. Paul International Airport. The airport, which served more than 38 million travelers in 2018, supports 86,900 jobs and generates $15.9 billion in total economic output for the Twin Cities metropolitan area.
Although Minnesota has no fossil fuel production, the state does have two refineries. These industrial facilities process (or refine) crude oil, which produces products for Minnesota's transportation needs, including jet fuel, diesel fuel, and gasoline. Minnesota also plays an important role in moving fuels to markets via pipeline throughout the Midwest, and beyond. Without pipelines, Minnesota wouldn't see a whole lot of oil for our refineries. Moreover, without refineries, we wouldn't see much fuel to get us where we need, or want, to be. Like out exploring the world and learning about new cultures.
That's why the current effort underway to modernize Minnesota's Line 3 is so essential. If we successfully replace and upgrade this pipeline, we'll be able to continue to meet the energy needs for travelers, families, seniors, households, motorists, and businesses across the state. Moreover, that's good news for everyone.
I guess it's safe to say, without oil, our airplanes – and our vacations—would be stuck, sitting idle on the tarmac.