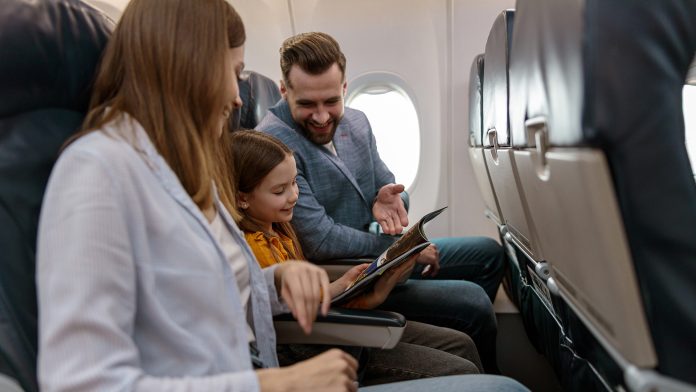 The summer travel rush is approaching, and airports will soon be overflowing with people looking to travel to see friends and family. Experts are expecting chaos following months of delayed or cancelled flights, ever-changing restrictions, and understaffing from the ticket line to the airplane cabin.
Americans alone took over 1.1 billion flights domestically and internationally in 2019. For those that flew, each of those flights contributed to an individual's carbon footprint. (Want to get an idea of what yours is, click here.) While everyone's carbon footprint consists of many different elements, did you know that air travel is one of the biggest carbon footprints a person can have?
In a cross-country flight from Boston Logan (BOS) Airport to Los Angeles (LAX) Airport, roughly 588 kg of CO2 are released – which is .044% of total airline emissions in 2021. The commercial aviation industry is responsible for 2-3% of emissions annually, and in 2021 alone the industry emitted 547 million metric tons of carbon dioxide emissions. Although this number is a huge decrease from prior years, emissions totals are starting to rise again along with the urge to travel post-pandemic.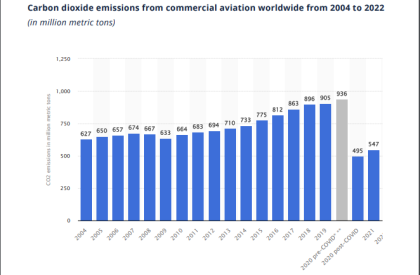 Although the airline industry is incorporating new strategies to decrease carbon emissions through Sustainable Aviation Fuel, which involves blending things like jet fuel and ethanol or possibly using more jet fuel produced through the process known as Enhanced Oil Recovery. Airlines are also strategizing their overall climate goals, but there are ways you can reduce your carbon footprint on your own. This holiday season; plan to fly with N.O.E.L. in mind.
N – Newest Aircraft
Choosing an airline that uses newer, more energy efficient planes is a great way to reduce your carbon footprint. Frontier made the most efficient use of jet fuel in 2018 – however, none of the US domestic airlines are fully 'green'.
O – One Way
About 23% of fuel per flight is used during takeoff and landing – nearly a quarter of an airplane's tank! So, nonstop flights save more fuel per flight.
E – Economy
Flying first class emits four times more carbon emissions then economy seating. This is due to higher class seating having larger seating arrangements that account for a larger percentage of the plane's pollution per passenger.
L – Light Luggage
Traveling light is a plus for you and the environment. A lighter load on a plane results in a significant reduction in fuel usage to takeoff and stay airborne over the length of the flight.
For many, travel is a way to see the world. For others, it is a means of transportation for work. Whatever your reason for flying might be, it's important to keep in mind how it contributes to your overall carbon footprint and what you can do to save. Plus, it helps us all be more realistic about our individual contributions to climate change.