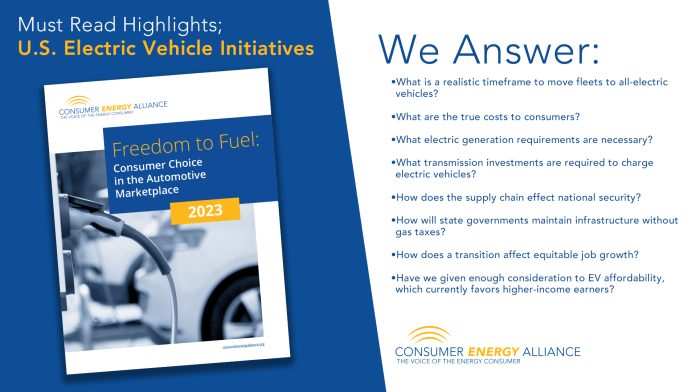 Government EV Directives Ignore – Sometimes Intentionally – Serious Issues That Will Hurt EV Acceptance
WASHINGTON, D.C.  – Consumer Energy Alliance (CEA), the leading energy and environmental advocate for families and businesses, released a new report detailing how electric vehicle (EV) mandates will force consumers into paying more in overall transportation costs and create potentially catastrophic pressure on the electric grid if those and other serious issues are not addressed beforehand.
The report, "Freedom to Fuel: Consumer Choice in the Automotive Marketplace," also examines key constraints that must be addressed by policymakers before widespread EV adoption can successfully occur, including infrastructure build-out, the ability of electric generation to meet increased demand and critical mineral scarcity.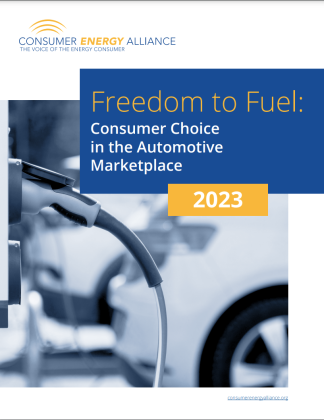 "Consumers across the country rely on a robust automotive marketplace to meet their mobility needs – whether it is for commuting to work and running errands, delivering goods, or finding a reliable used car for a new driver. This is why it's imperative that any government overhaul of our automotive sector fully and completely consider every aspect of the value chain and deploy strategies to ensure a successful transition," CEA Midwest Director Chris Ventura said.
"Unfortunately, in the haste to pass EV directives, that has not been the case. In several states, and even at the federal level, policymakers are moving forward with proposals requiring the market to adopt electric vehicles without regard to the real-world implications these mandates will have on consumers, grid reliability, or the economy. Not only will these hastily conceived policies harm families and businesses, but they are also likely to slow consumer acceptance of EVs once prices rise and the electricity grid is unable to keep up with the increased demand EV mandates will bring. Already, most low- and middle-income earners, as well as seniors, struggle with the steep $60,000-plus average EV price, nearly $15,000 more than a traditional vehicle."
"CEA's report found that substantial infrastructure investment in the EV charging network, electric generation, transmission, and distribution systems is needed before widespread EV adoption can successfully take place. Banning gasoline and diesel-powered vehicles and forcing consumers to purchase EVs before states have this infrastructure in place is unconscionably irresponsible, and will imperil our electricity grid, risking the safety of millions of consumers. Half-baked mandates that fail to consider real-world implications could be catastrophic for families and businesses – as well as the EV market itself – while causing more harm than good to the environment."
To view the report, click here.
###
About Consumer Energy Alliance
Consumer Energy Alliance (CEA) is the leading voice for sensible energy and environmental policies for consumers, bringing together families, farmers, small businesses, distributors, producers, and manufacturers to support America's environmentally sustainable energy future. With more than 550,000 members nationwide, we are committed to leading the nation's dialogue around energy, its critical role in the economy, and how it supports the vital supply chains for the families and businesses that depend on them. CEA works daily to encourage communities across the nation to seek sensible, realistic, and environmentally responsible solutions to meet our nation's energy needs.
Contact:
Bryson Hull
(202) 657-2855
bhull@consumerenergyalliance.org