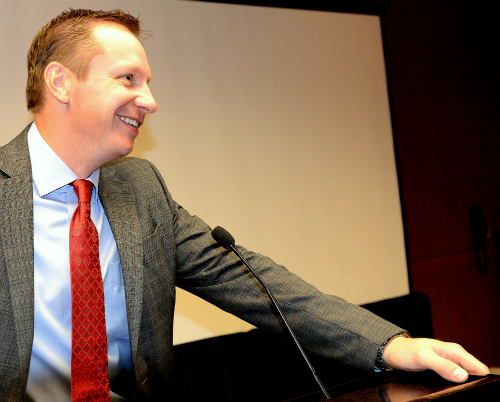 Consumer Energy Alliance on Monday hosted the latest in it's series of energy policy luncheons with the National Association of Regulatory Utility Commissioners, (NARUC) at their summer meeting in Denver. The CEA hosted luncheon featured Chad Vorthmann, Executive Vice President of the Colorado Farm Bureau, a CEA member organization. Vorthmann discussed energy and agriculture related issues including oil and gas well setback rules, renewable portfolio mandates on rural electric coops, endangered species reform, and electric transmission projects.
"Ultimately, energy policy has the potential to disproportionately effect agriculture producers," said Vorthmann. "We need to do all we can to minimize the impacts that poor energy policy can have on our family farmers and ranchers."
He also commented on the importance of the agriculture and food industry, noting with a projected global population of 9 billion people by 2050, farmers will need to produce more food in the next 40 years than they have for the past 4,000 years! And that with 98% of farms still owned and operated by families, its important to reduce regulatory impacts that can hurt farmers' bottom lines.
NARUC luncheons provide CEA will the opportunity to connect utility commissioners with energy consumers and educate them on aspects of the energy industry that they may not be familiar with.
"As a former regulatory Commissioner I appreciate the need for this kind of outreach and education." said Dave Harbour, CEA board member and a NARUC commissioner emeritus.  "Briefings and written pleadings from consumers, utilities and producers have always helped me better understand the issues upon which good state and national energy policies are based."
NARUC holds three meetings a year, and CEA has hosted a luncheon at the last seven meetings.
"Utility commissioners have great influence on the direction of state energy policy and CEA is working to insure they understand exactly how the decisions they make can effect energy consumers and our CEA members," said CEA Senior Vice President Andrew Browning.
Photo by Dave Harbour