More than 125,000 US consumers support a robust offshore energy development program.  Consumer Energy Alliance (CEA) and its partner organizations have submitted these comments to the U.S. Bureau of Ocean Energy Management (BOEM) just before the end of the comment period on a new five-year offshore energy leasing plan. The current plan expires in 2017; the new plan would cover 2017 to 2022.
American consumers overwhelmingly support a commonsense energy policy that includes expanding access to offshore areas where responsible exploration for oil and natural gas can be done. In all, 128,042 comments were garnered on behalf of CEA, including:
31,325 from consumers in the Gulf Coast states
41,753 from consumers along the Atlantic Coast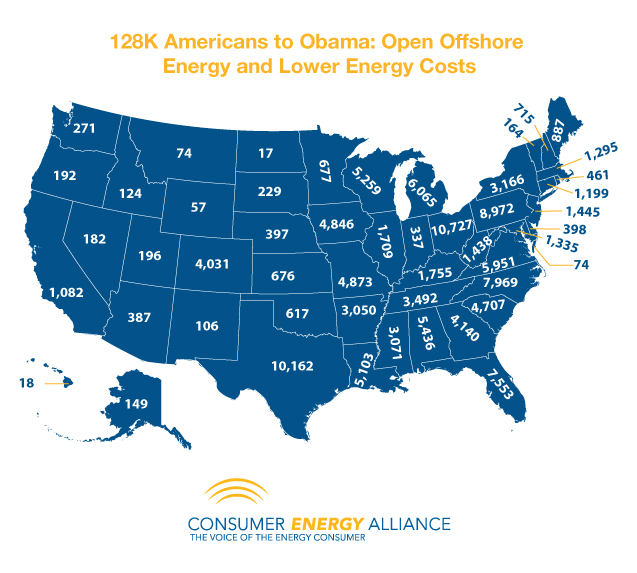 In the federal government's current leasing program, only the western and central portions of the Gulf of Mexico and some limited areas off the Alaskan coast are available for leasing. Altogether, 87% of offshore areas have been closed off from energy development.
"Just imagine the economic benefits that hardworking consumers would get if other areas off the Atlantic coast or eastern region of the Gulf of Mexico were open for energy production too," says David Holt, President of Consumer Energy Alliance.
"CEA and our 400,000 members from every sector of the US economy strongly value the contributions that domestic energy production has had for our nation's consumers," Holt says. "CEA has long advocated for expanded access to responsible offshore energy production as a means to grow our economy and lower energy prices. We urge the BOEM to listen to the more than 125,000 consumers and 150 companies and organizations who have joined CEA in calling on the federal government to allow access to our resources. We can protect our environment AND develop our domestic energy resources. Those who argue this is the environment vs energy production do nothing more than hurt consumers, limit jobs and stifle economic growth."
This is why opening up new offshore areas for responsible energy development is a welcome initiative for Americans interested in energy security, advocates suggest:
From Louisiana Chemical Association's Dan Borné:
"Continued and expanded access to all areas of the Gulf of Mexico will increase these economic gains for Gulf Coast residents and ensure that the Gulf Coast continues to supply American consumers across the country with reliable crude oil, petroleum products, and natural gas. As a Louisiana trade association consisting of more than 60 chemical manufacturers, we depend on natural gas and petroleum products for feed stocks, intermediates, boiler fuels and other production uses."
From Virginia Manufacturers Association (VMA) President & CEO Brett Vassey:
"VMA has long been an advocate for developing domestic energy resources. Sustainable economic growth in manufacturing is contingent upon reliable and affordable energy and fuels. VMA supports responsible evaluation, leasing and drilling activities in the OCS. Not only would manufacturers benefit from the additional energy resources, the increase in energy reliability and security but we would also benefit from the increased economic activity."
From South Carolina Palmetto AgriBusiness Council Executive Director Cathy Novinger:
"South Carolina, like other states located along the Atlantic coast, has an opportunity to contribute to our nation's energy supply stability as well as increase our state's revenues…All businesses, consumers and agriculture would benefit from a greater supply of domestically produced fuel, strengthening America's energy security and keeping energy costs under control."
Alaska Trucking Association's Executive Director Aves Thompson:  "Off Alaska, it is vital that the United States maintain and accelerate opportunities to develop offshore oil and gas, particularly in the resource-rich Beaufort and Chukchi Seas. In addition to boosting U.S. economic growth, Alaskan offshore development will help extend the longevity of the Trans-Alaska Pipeline System (TAPS)."
The U.S. Outer Continental Shelf has more than 6,200 active oil and gas leases covering approximately 34 million acres. These leases produce 18 percent of domestic oil production and 5 percent of domestic natural gas production. But these areas hold an estimated 89.93 billion barrels of oil and 404.52 trillion cubic feet of natural gas that have yet to be tapped.