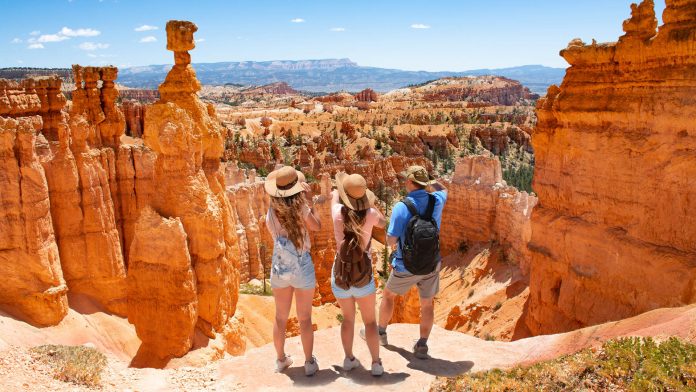 Report Spotlights How Abundant Gas Resources Will Drive Economic and Environmental Benefits
DENVER – April 15, 2019 – Consumer Energy Alliance (CEA), the leading consumer advocate for energy, today released a report on "Natural Gas Markets for the Western States and Tribal Nations,"detailing how abundant natural gas resources in the Piceance and Uinta basins of Colorado and Utah can help regional and global communities thrive economically and environmentally — if more production and infrastructure expansion efforts are approved.
"The Piceance-Uinta Basin has a unique advantage over other U.S. and Canadian conventional and shale production areas, which is its abundant and available pipeline export capacity throughout the western U.S.," Andrew Browning, Chief Operating Officer, Consumer Energy Alliance said.
"Western States and Tribal Nations (WSTN), a newly formed advocacy group, is facilitating conversations between the natural gas industry, liquefied natural gas (LNG) exporters, conservation groups, tribes, outdoor recreation groups and other relevant participants — all of whom want to learn how more energy production and pipelines can benefit Colorado, Utah, the sovereign Ute Nation and neighboring states, regions, the nation and other countries — fiscally and environmentally," Browning added.
Dr. Laura Nelson, Utah Governor's energy advisor and executive director of the Governor's Office of Energy Development, said, "Utah is committed to creating win-win outcomes for economies, locally and globally, by forging strategic partnerships to advance new pathways for the western states and tribal nations' abundant natural gas resources through key infrastructure development and greater market access abroad." She added: "As demand for LNG continues to increase in emerging markets throughout the Asia Pacific region, we're poised to play a pivotal role for providing energy solutions that drive greater economic and environmental results."
Per the analysis, titled "Development and Export of Natural Gas Resources from the Piceance-Uinta Basin," LNG exports produced from the basins could add as much as $92.7 billion in annual U.S. GDP through 2030 and as much as $3.26 trillion in cumulative benefits through 2050. LNG exports would also help sustain as many as 432,900 U.S. jobs annually through 2050.
Local economies would benefit most. Using a formula outlined in a 2013 study by consulting firm ICF International — a report which estimated the value of LNG exports for each state, including producing and manufacturing returns — Colorado can expect an estimated $6 billion in revenue and about 38,000 jobs. Utah could see $4 billion in revenue and approximately 15,000 jobs.
The Ute Tribal Business Committee stated, "Through the construction of liquefied natural gas pipelines and a west coast export terminal, such as the proposed Jordan Cove LNG export terminal, Ute Energy can gain access to new energy markets that will alleviate the ongoing marketing and sales inefficiencies.  This would also increase the Ute Indian Tribe's income and assist in its ongoing efforts of economic development and providing essential services for its tribal members."
"Our counties are committed to marketing our natural gas resources to Asia and other countries, to help stabilize economies in western Colorado and aid in the geopolitical stabilization of America's allies abroad," said Rose Pugliese, Mesa County Commissioner.
LNG — a cleaner-burning fuel source that reduces greenhouse gas emissions and produces negligible sulfur, mercury, and particulate emissions — supports the integration of renewable energy resources. This is a primary reason why more countries are using LNG as a power generation fuel. Case in point: Strong, soaring demand for LNG in the Pacific Basin has resulted in new Asian markets for Piceance-Uinta Basin natural gas production, per CEA's report. By using more U.S.-produced LNG, consumers in the Asian markets are reducing industry-related emissions and lowering energy costs, a must in the fight against poverty.
"What we do here in the Rockies, the decisions we make about energy development, don't just affect us; they reverberate around the world," Browning said. "This is an opportunity for us to help bring Rockies-made energy resources to countries across Asia who are eager for access and looking for energy markets to meet that need."
The WSTN study, compiled by Colorado Mesa University's Unconventional Energy Center, was commissioned by the Colorado Energy Office under former Colorado Gov. John Hickenlooper, the Utah Governor's Office of Energy Development, and the Ouray and Uintah Utes. These stakeholders have recently been joined by the following Colorado counties: Garfield, Mesa Moffat, and Rio Blanco.
To view the report, click here.
###
About Consumer Energy Alliance
Consumer Energy Alliance (CEA) is the leading consumer advocate for energy, bringing together families, farmers, small businesses, distributors, producers and manufacturers to support America's environmentally sustainable energy future. With more than 550,000 members nationwide, our mission is to help ensure stable prices and energy security for households and businesses across the country. CEA works daily to encourage people across the nation to seek sensible, realistic and environmentally responsible solutions to meeting our energy needs.
Contact:
Emily Haggstrom
P: 720-582-0242
ehaggstrom@consumerenergyalliance.org