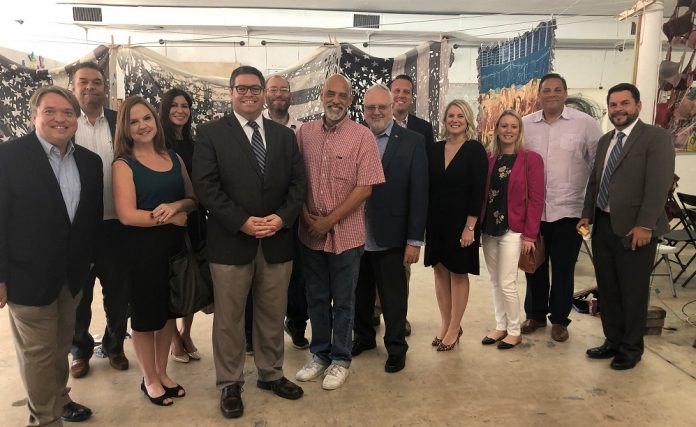 Consumer Energy Alliance (CEA), the nation's leading energy advocate for families and small businesses, the Florida Hispanic Chamber of Commerce and the Hispanic Policy Group today held an interactive discussion with members of the Florida business community and families about how energy policies affect their bottom line.
"Consumer Energy Alliance has long advocated for all-of-the-above energy policy to ensure that Florida's families and small businesses have access to reliable and affordable energy," said Kevin Doyle, Consumer Energy Alliance's Florida Executive Director. "With innovation, technology and human ingenuity, we are confident we can reach a balance, resulting in a win for national security, our tourism industry, our environment and the millions of families and small businesses in Florida that depend on reliable, affordable energy."
With Congressional bills calling to extend a moratorium on oil and gas exploration in most of the eastern Gulf of Mexico, proposals that restrict energy development, stalled infrastructure and utility issues, it's more important than ever that Florida's business owners understand the impacts of energy policy and how best to balance environmental stewardship and energy development.
Today's discussion provided an opportunity for business leaders, government officials and individuals to learn more about Florida's role as an energy importer and the critical role a comprehensive energy policy – encompassing renewable and traditional energy sources – can play in creating jobs, generating tax revenue, driving economic growth and reducing utility bills.
"I'm a firm proponent of a balanced energy supply, which encompasses an 'all-of-the-above' approach," said Julio Fuentes, President, and CEO of the Florida State Hispanic Chamber of Commerce. "One in four businesses in Florida is a Hispanic-owned business. The Hispanic business community understands the importance that affordable and reliable energy plays in Florida's economy."
Floridians saved more than $8 billion between 2006-2016 thanks to increased natural gas output produced with safer, state-of-the-art technology under the world's most stringent environmental standards – despite being wholly reliant on energy imported from elsewhere. Florida's residential electricity rates are cheaper than more than two-thirds of the country, too, according to Energy Information Administration data.
"Whether it is working in trade, tourism, logistics or transportation, any disruption in stable American energy supply that increases energy prices could have a devastating effect on jobs for Hispanic families," said Ariel Fernandez, President of the Hispanic Policy Group. "The recent events in Saudi Arabia and Venezuela hurt global energy supplies but the impact on the U.S. was limited, because we are just now becoming the world's leading energy producer. That's why it's important for all Floridians to understand how strong, safe U.S. energy production shields our economy and families."
Even though Florida doesn't produce any oil or gas, the industry already contributes $11.9 billion in wages and 266,800 jobs to the Sunshine State through workers that make oil and gas production and delivery possible, according to a PricewaterhouseCoopers study.
Calls to extend an oil and gas drilling moratorium in federal waters off of Florida, as well as anti-energy efforts to limit access to natural gas and the pipelines that carry it, all represent risks. While no Floridian wants to risk our beautiful coastlines and threaten our tourism industry, there is an opportunity to protect our shores and boost our economy by allowing limited oil and gas exploration in the Gulf of Mexico, which could bring as much as 85,000 jobs and $4.5 billion a year to the economy.
###
About Consumer Energy Alliance
Consumer Energy Alliance (CEA) is the leading consumer advocate for energy, bringing together families, farmers, small businesses, distributors, producers, and manufacturers to support America's environmentally sustainable energy future. With more than 550,000 members nationwide, our mission is to help ensure stable prices and energy security for households and businesses across the country. CEA works daily to encourage people across the nation to seek sensible, realistic, and environmentally responsible solutions to meet our energy needs.
Contact:
Emily Haggstrom
P: 720-582-0242
ehaggstrom@consumerenergyalliance.org