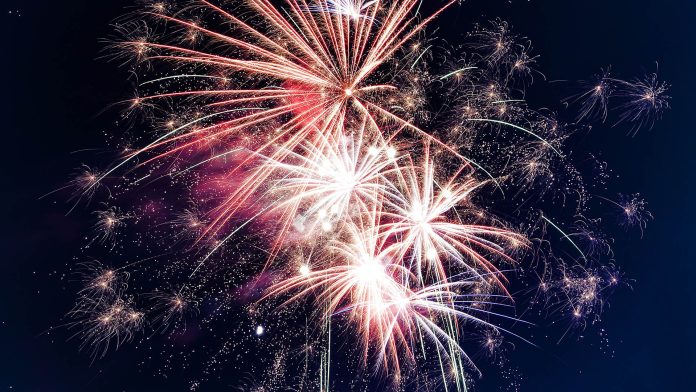 One of the biggest traditions for celebrating Fourth of July is a fireworks display. Some of these displays may take place in your own backyard and others may be part of a huge community event. Regardless of how you experience them, all of the fireworks you enjoy have an incredible amount of science – and energy – behind them.
What are fireworks made of?
The short answer is A LOT of chemistry and physics.
An exploding firework is essentially a number of chemical reactions happening simultaneously. When you add heat, you provide enough activated energy (the energy that kick-starts a chemical reaction) to make solid chemical compounds that will combust when combined with the oxygen in the air.
One of the best part of a fireworks show is seeing the different shapes and colors that happen when they explode. The different colors you see are caused from separate chemical reactions. In general, different elements from the periodic table give off the different shades that you see in the sky. For example, Strontium creates a red color. Barium produces a green color. Copper makes a blue color and sodium generates an orange/yellow color.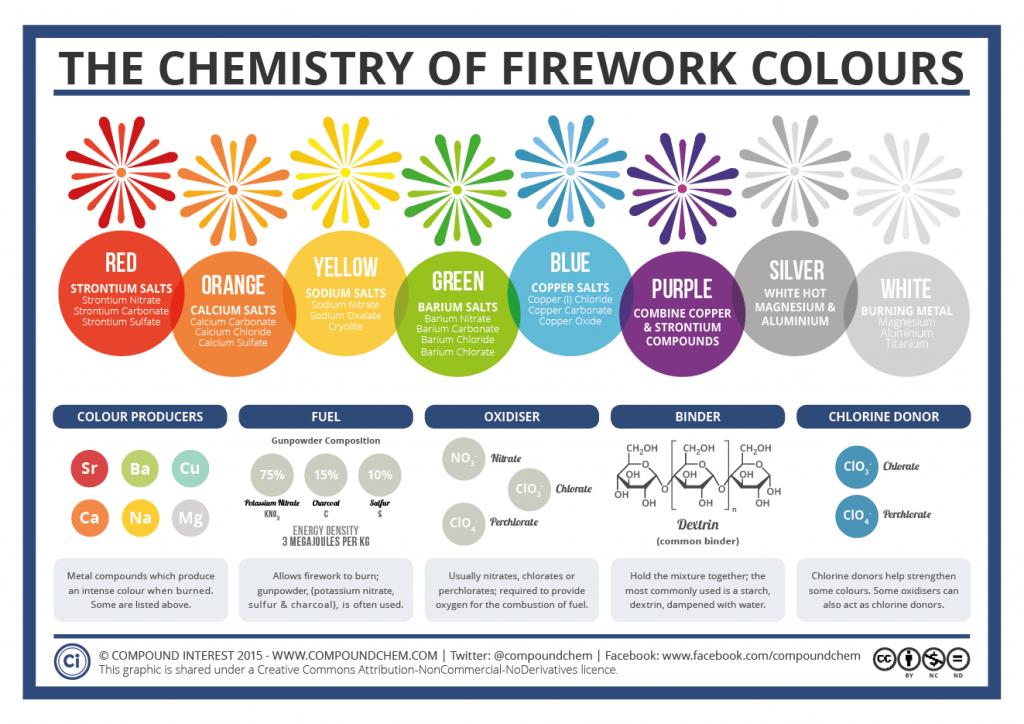 Fireworks and the Environment
While fireworks on Fourth of July is a long held tradition that you can witness just about anywhere in America. Sadly, one of the downsides is that traditional fireworks aren't very environmentally friendly. That's because when they're set off, fireworks release smoke and exhaust gases such as carbon dioxide, carbon monoxide, and nitrogen – emissions produced from things like roadside pollution. On the Fourth of July, it is estimated that air particulates increase by 370%, according to the National Oceanic and Atmospheric Administration (NOAA). Even as the pandemic halted professional fireworks shows in 2020, Americans still purchased over 404.5 million pounds of fireworks, according to the American Pyrotechnics Association (APA). More than a 48% increase from 2019 – which the industry noted was a 'banner year.' This means fireworks shows across the country produce roughly 84,270 metric tons of carbon dioxide. That's the equivalent of a 4,555-acre wildfire burning in a single day. Picture 3,450 football fields ablaze all at once.
Can fireworks be eco-friendly?
Normally, traditional fireworks are made using a fuel of charcoal and Sulphur, what science refers to as a perchlorate oxidizer that helps with burning. When ignited, the displays are spectacular, but they also emit large amounts of smoke, or unused perchlorates and metal by-products, all of which are pollutants.
Slowly, modern technology has worked to create environmentally friendly fireworks to reduce the amount of atmospheric pollution produced by traditionally made fireworks. Now, eco-friendly fireworks use a cleaner-burning, nitrogen-based fuel. This means a perchlorate oxidizer is not needed and because there is little smoke, only small amounts of metal salts are needed to produce the amazing colors we see.
What will emissions look like this year compared to 2020?
As people throughout the U.S. come out of the pandemic and prepare for in-person celebrations, the common thought is that we can expect huge celebrations. This is a tossup. While the U.S. could see a reduction in emissions due a shortage of fireworks, one of the many victims of the current supply chain shortage, since many shows were cancelled during the pandemic, many organizations, governments and individuals have them saved from the prior year.
This year, consumers who want to host their own backyard celebration can expect anywhere from a 5 to 30 percent increase in prices depending on where they live. This means that either people will have to shell out extra money for half the amount of fireworks they're used to getting compared to years past, dig them out of storage or simply go without them.
Fireworks are beautiful, nostalgic and celebratory. They're also fun. So why are we talking about their environmental impact? Well, this is all to say that there is not a single fix to reduce emissions that contribute to climate change – everything we do is inexorably tied to energy and it all adds up. It isn't just cars, or the fuels that heat and cool your home. Everything we choose to do has consequences and we have to bear in mind all of the things that contribute to our environmental footprints – even fireworks.