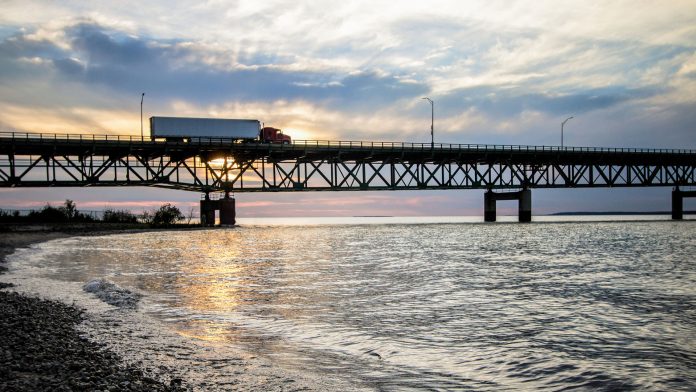 Ohio, Indiana, and Pennsylvania were added to a recent report we commissioned at Consumer Energy Alliance, which found these states would see a combined $20.8 billion economic loss if Michigan Governor Gretchen Whitmer shut down the Line 5 pipeline for good. Ohio Governor, Mike DeWine, whose state would see some of the most significant losses, expressed dismay in a letter to Gov. Whitmer. He, of course, understands the implications of such an action, especially the economic fallout, jobs implications, and the decrease in fuel supply for transportation, home heating, and manufacturing – but do those against the pipeline, including Governor Whitmer, understand?
After Canada invoked a 1977 bilateral treaty – making it a federal and international relations matter – even the Biden Administration clarified its position during a White House briefing, saying that shutting down Line 5 "…is something that we're not going to do."
Outside of the more than $3 billion in lost economic activity, 6,692 lost jobs, and more than $56.8 million in lost state tax revenue, Michigan would also lose access to the 540,000 barrels per day of energy Line 5 delivers to the Rapid River and Detroit refineries, and eight other regional refineries. These refineries process the energy Line 5 delivers into gasoline, diesel, jet fuel, and natural gas liquids like propane for home heating and other feedstocks like ethane, butane, and isobutane used to produce other chemicals for manufacturing everyday consumer products for Michigan and the region.
Primarily, Line 5 carries roughly 80% crude oil and 20% natural gas liquids (NGL), and in winter, the line adjusts to bring more NGLs to accommodate home heating needs – especially for areas like the UP that are reliant on propane. Of that energy, 40-45% is shipped out of state, and 40-45% stays in the state. However, much of what is shipped out eventually flows back into Michigan. For example, what is delivered to the Toledo Refining Company in Ohio, is turned into jet fuel, diesel, gasoline, and distillates used in manufacturing. This refinery and other Northwest Ohio fuel manufacturers supply 42% of Southeastern Michigan's gasoline and 14% of its non-jet diesel. They also provide the majority of the fuel to Detroit Metropolitan Airport, one of the busiest airports in the country.
The reality is Michigan, and the region utilizes this energy. Yes, markets can eventually adjust to find replacement supplies but how long will that take, and at what cost to people and the businesses that employ them? Pushing for a complete shutdown of Line 5 shows a lack of seriousness, understanding, and a proper grasp of how energy markets work. Fuel demand for most consumers and industries is inelastic – that means the demand is strong even when prices rise significantly.
Trucks, trains, and planes still have to operate in high price environments. Large volumes of fuel do not just arrive at their destination or at a gas station because we will it to be. That requires infrastructure, refining, and processing capabilities. If you shut down the source of fuel for local refineries, new ones do not sprout up to replace them at another more convenient location. Demand in other areas also doesn't decrease to adjust for the lack of energy in Michigan. No new refinery has been built in the U.S. since the late 1970s either, largely because of their incredibly capital-intensive nature and the difficulty to get them permitted. Shutting down Line 5 is in essence tacit support for more expensive energy and additional imports from OPEC to meet domestic demand.
Act Now Against High Gas Prices
Governor Whitmer created a "Blue-Ribbon Taskforce" to analyze the propane supply to the Upper Peninsula too, "formulate alternative solutions for meeting the U.P.'s energy needs." Examining and studying new rail, truck, and spending more to weatherize homes due to the consumer hardships that the state's actions would create were some of the top solutions. The problem is the steady decline in truck drivers since 2019. In 2021, the American Trucking Association projected a shortage of 80,000 drivers. Add in rail; what new rail spur is the state envisioning? Rail lines are privately owned and capacity is already subscribed for by other commodities and goods they carry (just ask Michigan farmers); and you must consider those rail cars have to be specially made to transport propane, which means they need to be much stronger and have the approval to move hazardous materials. Additionally, a typical LPG tank car holds 30,000 gallons. However, it should be noted that Michigan relies on more than 489 million gallons annually to fuel its farms, businesses, homes, and vehicles.
Some have even suggested a pipeline reversal. That means taking an existing pipeline and repurposing it from one type of crude for another. Depending on the crude, lines would need to be modified to adjust for the chemical characteristics. However, that is only if the lines have capacity. The energy infrastructure network is highly complex and interconnected. In some cases, much of the energy within these pipelines is already accounted for by other states and different countries. Unfortunately, an independent risk analysis stated, "The supply network generally runs near capacity, which creates challenges in making up for lost volumes." It noted that increasing volumes to make up for the loss of Line 5 would be at the expense of other fuels across Illinois, Ohio, Michigan, and Canada. Not quite an easy fix.
Yet, Gov. Whitmer intentionally chooses to mislead Michigan families and consumers about Line 5 by portraying it as a cheap garden hose left carelessly on the lakebed, ready to spring a leak at any moment and the proposed Line 5 Tunnel Project.
It is not in her best interest to point out that the Line 5 Tunnel Project would remove the existing pipeline from the lakebed and encase a new section in a concrete tunnel, up to 100 feet below the lakebed in solid bedrock– essentially entombing it. The state-of-the-art tunnel will be built to carry any leakage away from the water in the highly unlikely event of a spill, a fact the governor's anti-energy activist donors do not want the public to know.
Likely because the League of Conservation Voters, who gave $68,000 directly to her campaign and then spent almost another $2.5 million through their super PAC in support of her election, are vehemently against the pipeline and whose advocacy and lobbying efforts often give mistruths in an attempt to persuade the public. The only problem with their mistruths is that they are easily discoverable in public court documents that quickly dispel these fibs. The court isn't the place to perjure oneself.