Experts in the energy industry and local community leaders spoke out at Metropolitan Baptist Church in Newark to address potential rising energy costs under new proposals in Trenton.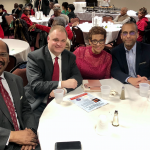 Cory Booker's Personal Pastor, Rev. Dr. David Jefferson, Hosts Important Event
Tuesday, December 16, 2019 (Newark, New Jersey) On Saturday, December 14th, Rev. Dr. David Jefferson, Sr. Esq., Senior Pastor of Metropolitan Baptist Church and Board member of National Action Network (NAN), hosted the Annual Seasoned Saints Gala, featuring keynote speakers who discussed the risk of rising energy costs under new proposals in Trenton to eliminate affordable natural gas in favor of higher cost sources. Dr. Jefferson, personal pastor to New Jersey Senator and 2020 Presidential Candidate Cory Booker presented the event before 200 Newark seniors in an effort to educate his congregation on the potentially negative effects of new initiatives that limit natural gas pipeline construction and drive up energy bills. The panel of speakers included experts in the energy industry as well as local community leaders and small business owners.
"The second highest bill after rent or mortgage is energy – what our seniors pay for heat, for gas, for life, is at risk. We need to have a strategy to impact policy and make a difference," said Rev. Dr. David Jefferson Sr. Esq., Senior Pastor at Metropolitan Baptist Church, "As we sit here right now, energy bills will go up, not down. Thirty five percent of households struggle to pay their energy bills—for seniors, that number is even higher. We need to partner together to tell legislators in the state of New Jersey that we don't want our energy bills raised."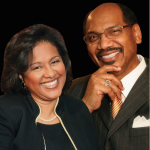 Rev. Jefferson Encourages Voters to Take a Hard Look at Energy Policy in New Jersey
Rev. Jefferson opened the event by sharing a phone call he received from a prominent pastor of a local church, seeking help on paying his energy bills in order to still hold Sunday services. Saturday's event followed on Jefferson's previous participation in an event with Rev. Steffie Bartley, at the National Action Network Tech World in the South Ward of Newark in September.
"Over the last 10 years, New Jersey has saved over $21 billion in energy costs that our families would have had to pay, thanks to natural gas pipelines," stated Mike Butler, representative from the Consumer Energy Alliance. "On average in New Jersey each family spends about $3,100 each month on energy costs—this is a very real number for families, especially in low-income areas. Any small fluctuation could create a crisis, forcing families to choose between heat for their homes or clothing and food for their families. We need state policymakers to understand just how important energy affordability is."
Politics Aside, Affordable Energy is a Human Right
"Access to affordable energy is a basic human right. As a small business owner, I know how difficult it is to stay afloat," stated Maimee Robinson of Clinton Robinson Pro Tax Services, "If energy costs in the state get too high, small business owners such as myself will struggle, and many in our community will be pushed into poverty, having to sacrifice winter heating. We need to urge our representatives to support the construction of natural gas pipelines and protect our access to affordable natural gas. Politics aside, no family should have to endure a harsh winter without heating for their families."