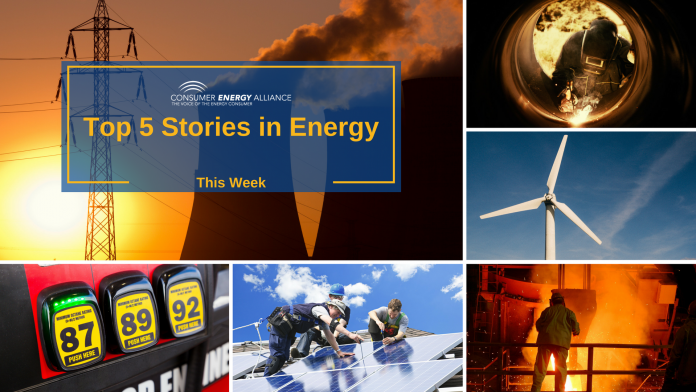 In regular news, it was a big week for dogs and beer, that's because a woman who lost her dog three years ago was reunited this week after finding a picture of her dog on a beer can. And Coors Light, took a note from Kansas City Chiefs lineman, Derrick Nnadi, deciding to pay for dog adoption fees across the country until February 21. If you still hadn't heard, the Senate acquits Trump of impeachment. While these headlines kept us engaged, our energy headlines are really the cat's pajamas! You can find last week's list right here.
It's no surprise that the journey to 'clean energy' is going to be a process.
Nor is it a surprise at how much the renewable industry relies on traditional energy sources for production and reliability. There are a few other ways that the oil and gas industry is going to help us all move in a cleaner direction. Submar lists those solutions here.
Plastics continue to be a sore spot in the recycling sector, but UK scientists may have an answer.
Typically with recycling plastics, their matter is broken down beyond repair after one reuse, which means they end up in landfills across the globe. Researchers from Bath and Birmingham Universities, however, found a way to chemically recycle these plastics to their original molecular make up. So they are the same quality as the first time they were recycled. The University of Bath shares the rest of the story here.
Pollution knows no borders. Hard stop.
While causing a lot of ruffled feathers the Paris Agreement spurred a lot of governments to do something about the state of the climate. Unless we are all prepared to work together, pollution spill over will continue to outweigh any clean policies put in place. As we continue to see coal plants shut down in the U.S., Japan has opted to open up to 22 new plants. The New York Times reports the rest here.
Net-Zero home options are about to be available in the Sunshine State.
According to the HERS Index, the new eco-friendly homes built by EcoSun have a perfect score of zero. Energy efficient homes is a major goal for a lot of consumers, but achieving that was just a dream. These homes are available now. My Lubbock TV gives the details here.
The renewable energy industry is providing jobs for the future.
As we see more technologies coming down the shoot, the more careers the industry can provide. Renewables are gearing up for a boom in the job sector, and kids are excited about the prospect of holding a career in the energy industry. WUSA 9 explains why kids are ready for their new gigs.