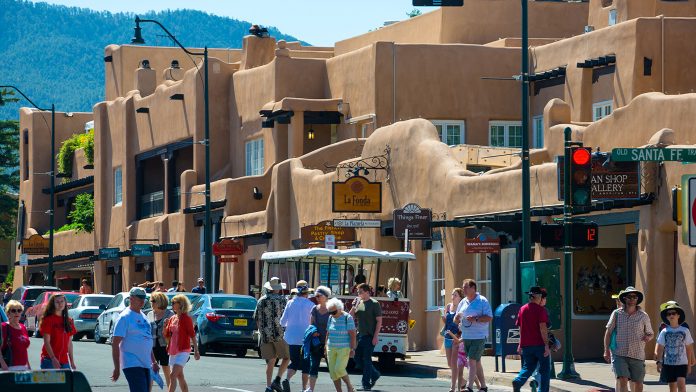 Legislation needed to stop outside activists from pressuring small, local governments to interfere with Energy Transition Act. 
SANTA FE, NM – Consumer Energy Alliance (CEA), the leading energy and environmental advocate for families and businesses, today released a report showing that a natural gas ban could cost households in New Mexico more than $28,000 and potentially derail implementation of the state's landmark Energy Transition Act.
"The Hidden Costs of a New Mexico Natural Gas Ban" examines the financial impact of a natural gas ban on a typical household in Las Cruces, using a CEA-developed cost calculator that incorporates open-source, localized data to estimate the cost to retrofit a home to all-electric appliances, depending on the house's configuration, appliances and other factors. These findings dovetail with previous CEA research showing it would cost Americans $258 billion to replace just four major gas appliances.
"I've seen my peers in small local governments in New Mexico and across the country being overwhelmed or bullied by out-of-town activists with similar bans, and it is clear we need a safeguard to keep that from happening so families cannot be bulldozed either," CEA Southwest Executive Director Matthew Gonzales said. "Anti-energy activists don't care about the financial impact a natural gas ban would have in a state where nearly a fifth of the people live at or below the poverty line and three-fifths heat their homes with natural gas."
The $28,400 price tag is more than a family of four in poverty makes in a year, and most New Mexicans would have to plan and save for it while they are already struggling with high gas prices and stubborn inflation, he said.
"New Mexico's 'minority majority' population of Hispanics and Native Americans is a strength of our state's culture, but those same New Mexicans face outsized energy burdens – something anti-energy activists conveniently ignore. Native Americans spend 45% more on energy than the median U.S. household, while Hispanic families pay 20% more," Gonzales said. "If we're looking out for communities, this isn't the way."
"Those burdens will only grow higher if we knock natural gas out of the mix, which is abundantly produced here in our state, under some of the most environmentally-forward laws and regulations in the country," Gonzales said. "Whether you agree with the Energy Transition Act or not, it is a model of how to balance environmental ambitions with the fact that our local governments and education system benefit and often rely upon oil and gas revenues."
"We cannot allow freelance local efforts or outside interference to add more uncertainty and undermine the significant collaboration and compromises New Mexicans have made and will have to keep making to preserve our heritage while simultaneously fostering energy innovation and a truly just transition to the future," he said.
Natural gas has been pivotal in cutting emissions even as its use grew from 1990-2021, the report shows.
"While we expand our mix of solar and wind, why would we want to limit choice by getting rid of an affordable, reliable and always-on energy source that is already helping us usher in a cleaner future? This legislation ensures our most vulnerable citizens' energy options aren't impaired by activists who value ideology over equal access to energy for all. Allowing that kind of thinking to prevail would be an energy injustice," Gonzales said.
To view the report, click here. 
###
About Consumer Energy Alliance
Consumer Energy Alliance (CEA) is the leading voice for sensible energy and environmental policies for consumers, bringing together families, farmers, small businesses, distributors, producers, and manufacturers to support America's environmentally sustainable energy future. With more than 550,000 members nationwide, we are committed to leading the nation's dialogue around energy, its critical role in the economy, and how it supports the vital supply chains for the families and businesses that depend on them. CEA works daily to encourage communities across the nation to seek sensible, realistic, and environmentally responsible solutions to meet our nation's energy needs.
Contact:
Bryson Hull
(202) 657-2855
bhull@consumerenergyalliance.org