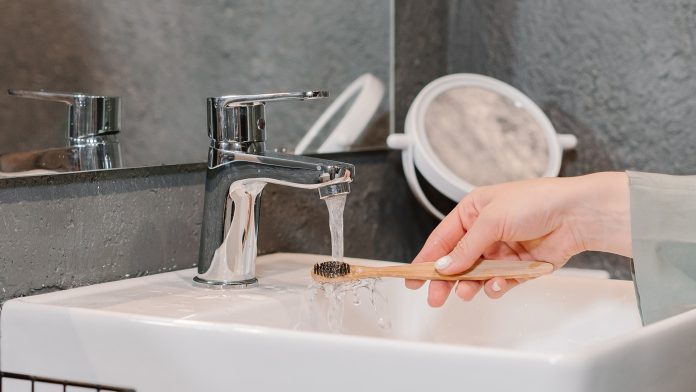 You've probably heard ways to reduce your impact on the planet by swapping out plastic straws for metal straws, bringing a tote bag with you to your weekly grocery store trip, and by using reusable Keurig pods instead of single serve pods to name a few. But have you considered ditching your dryer sheets for dryer balls or using beeswax paper instead of plastic wrap?
It's been noted that people around the world are suffering from what the American Psychological Association and a climate nonprofit group called ecoAmerica coined as "eco-anxiety," a term describing as they say is defined by "chronic fear of environmental doom." However, with humans the biggest contributors to climate change, taking personal accountability is the first step in doing our part as individuals. Just like every vote matters, so does every action you take to reduce your environmental footprint.
Taking one step at a time towards a more sustainable lifestyle is as easy as exchanging out some of the products in your house. The easiest things to swap out are paper and plastic products that are not recyclable. Other than food waste, plastic and paper products make up most of our municipal solid waste annually, according to the EPA.
Maybe you're not ready to jump all the way into a zero-waste lifestyle, but you're looking to get started. Here are some reusable basics you can try out to take steps to a more sustainable you!
Abolish Your Paper Towel Addiction
For how convenient paper towels are, their environmental impact is much less so. Every day we use paper towels to clean up our messes, spilling more waste into landfills. As trash piles up, becoming more compressed, it starves the landfill of oxygen. So much of what we throw away, including paper towels, ends up breaking down through a bacterial process, which generates methane – a gas twenty-three times more potent than carbon dioxide.
Paper waste takes the top spot for the largest amount of municipal waste, according to the EPA. Although paper towels can be compostable, there is a better alternative to replace them in your home. One average, households purchase roughly two hundred dollars' worth of paper towels every year. By converting to paperless paper towels, or reusable paper towels, you help to reduce your carbon footprint while increasing your cost savings. Try out these bamboo paperless-paper towels or these zero-waste towels for a pop of color!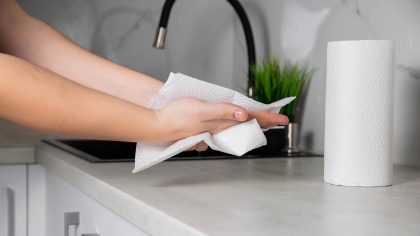 Solving the Plastic Crisis One Fork at a Time
Any meal, including the one you have on the go, can be sustainable with a set of reusable silverware! Another big contributor to single-use plastic waste is individual plastic utensils. Every day, more than 100 million plastic utensils are used in the United States alone. From eating out to families using plastic utensils at home, "we don't stop to think about this wasteful behavior," says Habits of Waste founder, Shelia Morovati.
Their group created the #CUTOUTCUTLERY campaign, which encourages companies (specifically food delivery services) to change their habit of using single-use plastic cutlery to reduce the 40 billion plastic utensils thrown away each year. Plus, reusable cutlery is not hard to come by and it's more affordable then you would think. Americans have been crowned the disposable kings, but this royal reign doesn't have to be forever.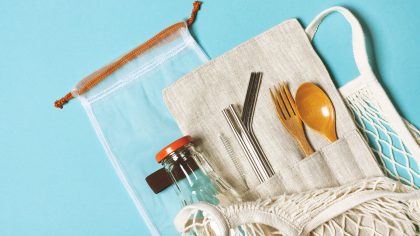 Have a Ball with Dryer Balls
How about ditching dryer sheets for dryer balls instead? They are great for reducing drying time and are cost effective! Dryer balls came onto the scene around 2014, and are a great sustainable alternative to dryer sheets that only have a life cycle of one wash. Dryer balls can also last up to 1,000 loads. Can't live without the scent that dryer sheets provide? Just add 2-3 drops of your favorite essential oil to your dryer balls and repeat as necessary. What's the best part of dryer balls you ask? Well, after your dryer balls have come to the end of their useful life you can toss them into your compost bin. Less drying time equals less energy used!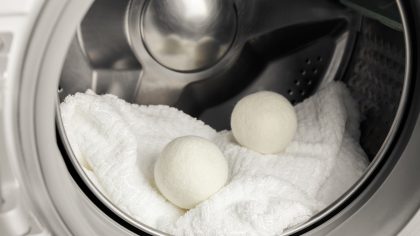 Achieve Your Sustainable Smile
Keep up with your pearly whites in an eco-friendly way by swapping out your plastic toothbrush for a zero-waste toothbrush! The average person uses 300 toothbrushes in their lifetime, and the life cycle of a toothbrush, as we can see in this video, never really ends. Bamboo toothbrushes are a popular, eco-friendly oral hygiene option, and are even compostable when you are ready to swap out for a new one. Some of the benefits of bamboo tooth brushes is that they are sustainably sourced and regenerative. Bamboo plants are among the most sustainable product materials we can use, and they even aide in carbon absorption. Electric tooth brush lovers, we've got your back. If you already have Phillips Sonicare® toothbrush this compatible bamboo toothbrush head gives you the added edge of sustainability!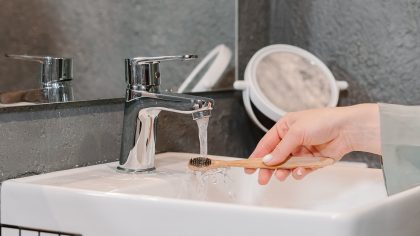 Committed to making the switch but don't know what to do with your used plastic oral hygiene products? Check out the Oral Care Recycling Program and the Electric Toothbrush Recycling Program by TerraCycle in partnership with Colgate®.
Protect Our Planet and Your Snacks
Much like other single-use plastic, sandwich bags are some of the most popular products that we throw out after eating our snacks and meals. This convenience is second-nature to most of us who usually don't think to using each bag more than once. Companies like Ziploc® are trying to change that by creating containers that can be used multiple times, and bags that can be recycled with plastic grocery bags and much more.
Since paper and plastic are more likely to end up in our landfills, reusable sandwich and snack bags are a great sustainable alternative, and are already beloved by many eco-friendly families. Toss in your favorite fruit, pretzel sticks, or PB+J for a sustainable snack that you can use time and time again!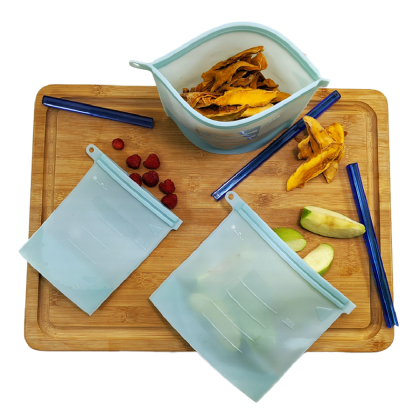 Wipe Away the Guilt of Waste off Your Face
It's no secret that the beauty industry contributes massively to the amount of waste on our planet, creating everyday waste-making habits in our daily routine. Do you use disposable makeup wipes or cotton balls? Synthetic woven fibers do not allow cotton rounds to fully biodegrade, thus adding to your households' amount of waste. According to the World Wildlife Federation (WWF), the amount of water needed to produce one kilogram of cotton, which is over a pack of cotton rounds, is the same amount of water one person could drink over three years. So if you're using these forms of makeup removers, it's time to ditch them for reusable cotton rounds to wipe off your glam.
Reusable cotton rounds are made from reusable materials like bamboo or plant based fibers. They're hygienic as well as soft to the touch and come with a shelf life of 5 years. These reusable rounds come with laundry bags so you can toss them in with your dirty clothes. The best part is, if they are well taken care of, reusable cotton rounds can reduce your ecological footprint with each use – saving roughly 3,650 cotton balls or 1,825 wipes!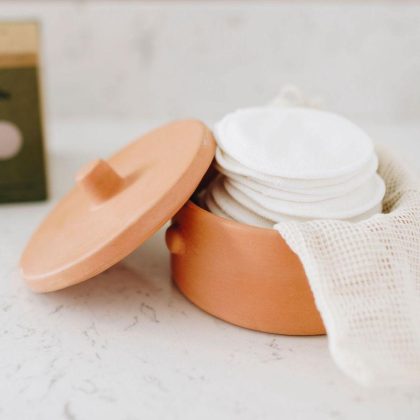 Food Wrap's Bad Rap
Plastic wrap is a common product used in every household, but is it essential? More than 40% of all plastic made is used for packaging, with 8.8 million tons of plastic entering our oceans each year, including our beloved plastic wrap. At home, plastic products can nearly always be swapped out for a reusable alternative, and plastic wrap is no different. A few popular eco-friendly alternatives include beeswax wrap, silicone food wraps (for food and container specific lids), or even cheesecloth. If you're a real go-getter, you can make your own reusable food wrap. The possibilities are endless when you're looking to sustainably save your leftovers!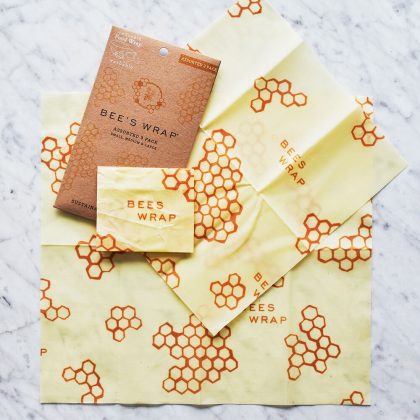 These are just a few ways you can ease your eco-anxiety, and there is no time like the present to make these easy switches at home! The EPA says it best: The easiest way to reduce waste is to not create it. Although there are companies looking to harvest waste for energy, we know that we'll never alleviate all of our waste. However, we could do better on how much we toss out. You will not only benefit yourself, but also the world around you by choosing sustainable products. Swap out for some of these reusable basics, and say hello to a more eco-friendly you!