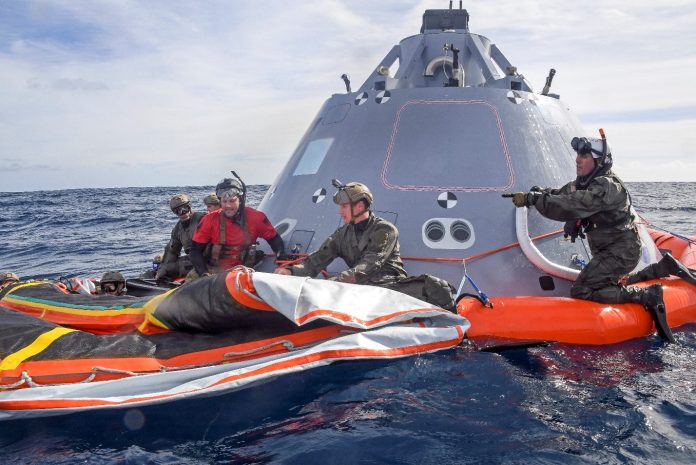 As New Mexico is building toward a more energy and environmentally efficient future, Jack's Plastic Welding Inc. (JPW) is using their valiant expertise as a force for change in the 21st century. Operating out of Aztec, New Mexico, JPW has soared to new heights in the aerospace industry by partnering with NASA to mastermind the NASA Space Capsule Recovery Platform.
The Space Capsule Recovery Platform is an octagon shaped rescue raft separate from the space capsule stabilization collar – the orange ring seen around the Orion Spacecraft. Through JPW's expert welding, they have created a raft to enable faster and safer recovery times for astronauts. With over 56 years of inflatable recovery systems used by NASA, JPW is the latest provider of safer rescue recovery for astronauts who may need an emergency ocean landing.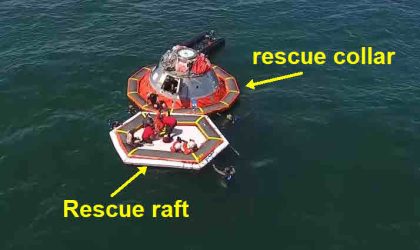 The recovery platform model built by the JPW team was first designed in 2016, but improvements have been made in partnership with NASA's Neutral Buoyancy Lab to create the newest model. A modernized stabilization ring has been built by JPW in recent years. Pictured below is the computer design of the 2017 model, including some major additions. Such additions include an inflatable canopy, ballast bags, cargo mesh bags, aluminum rung ladders, and new flooring with removable port holes.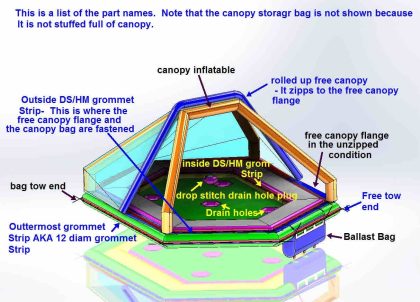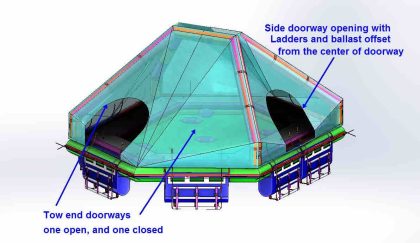 JPW has achieved many feats since partnering with NASA, including currently competing in the Waves to Water Prize launched by the U.S. Department of Energy's (DOE) Water Power Technologies Office (WPTO) and the National Renewable Energy Laboratory (NREL). Competitors in the Waves to Water Prize are tasked with engineering a small, modular desalination system powered by ocean wave energy. Jack's Plastic Welding teamed up with Wave Venture, an Irish wave energy consulting company, to create the Canvasback Desalination System. As a team, Wave Venture plays the part of analyzing each part of the device and JPW fabricates the body of the unit. In order to achieve the mission of providing clean drinking water only using ocean wave energy, JPW constructed an elastic covering that swells in and out with the waves creating enough momentum to power the reverse osmosis pump.
However, as curious, enthusiastic and intelligent beings, humans continue to refine their ideas and skills. In doing this, we explore how we can use our intelligence in other everyday inventions, products and skills across industries, providing their benefits in various ways. More importantly, being innovative and efficient.
Jack's Plastic Welding is one such company. Beyond the aerospace industry, Jack's has aided the oil and gas industry in pioneering new safety technologies. Rapid deployment emergency spill containment units are JPW's invention for emergency oil spills helping to contain the leakage as soon as the issue is recognized.
Though it may surprise you, JPW's products are geared primarily toward the adventure tourism industry. Regardless, they continue to collaborate with a diverse group of industries in order to provide modern safety technologies across the globe. This shows that with the intelligence and the perseverance to think big – there are always ways we can continue to help humanity achieve its goals and be more efficient every day.