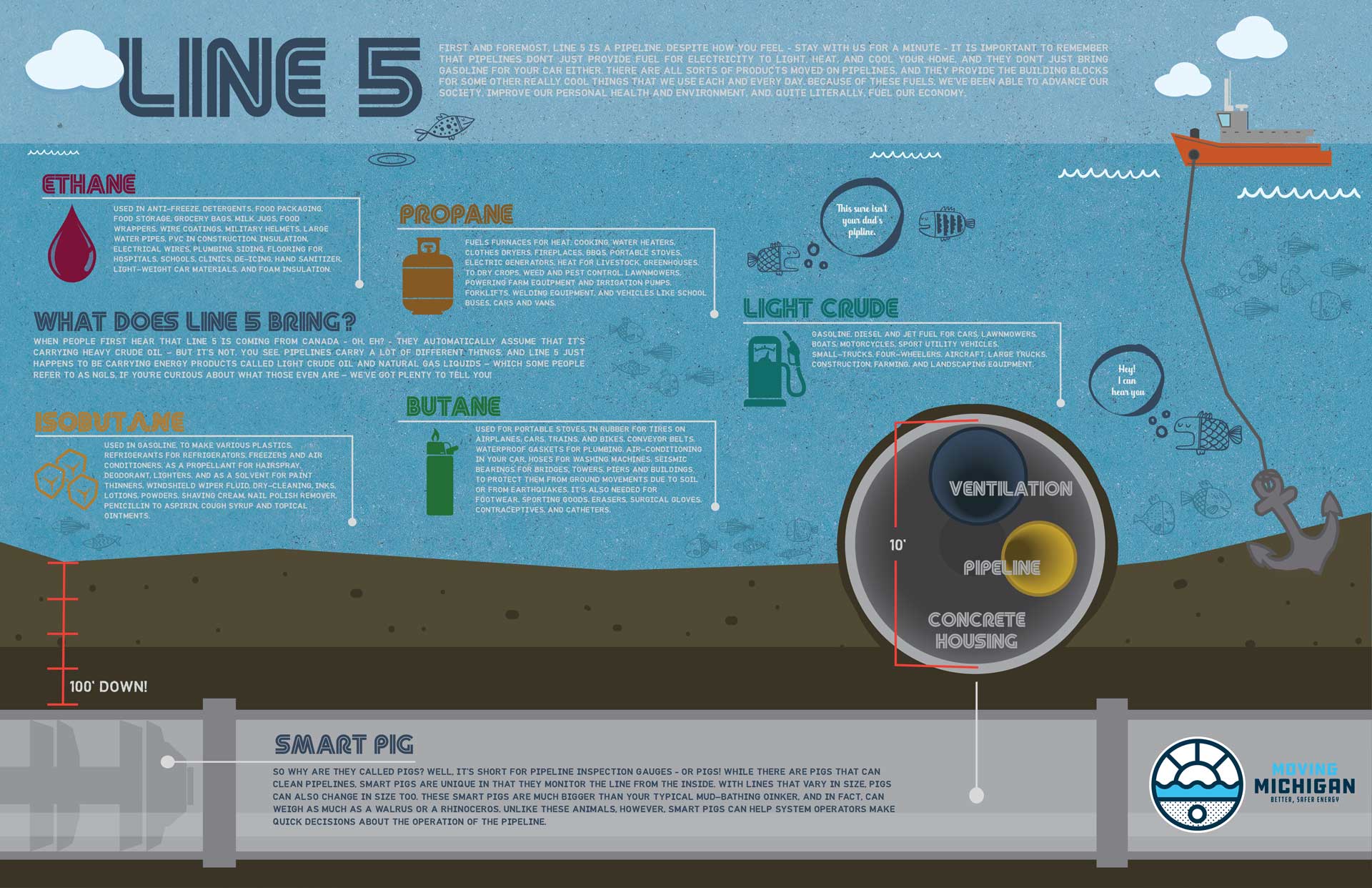 First and foremost, Line 5 is a pipeline. Despite how you feel – stay with us for a minute – it is important to remember that pipelines don't just provide fuel for electricity to light, heat, and cool your home, and they don't just bring gasoline for your car either. There are all sorts of products moved on pipelines, and they provide the building blocks for some other really cool things that we use each and every day. Because of...
Like every piece of technology and infrastructure, Line 5 needs to be updated with all of the new techniques, equipment, and materials that have been developed over the last 65 years. From monitoring and safety to construction and steel – an upgraded Line 5 would be a benefit to everyone and our environment. Just think of it like this: your old cell phone, old TV, and likely, your old car run fine, but it is the new technology, the new...
If you've ever driven past a house with a big white tank in the yard, you might be able to deduce that propane is their primary source of fuel. In fact, a lot of rural households, farms, and businesses use propane to heat their homes, run their farm equipment, and power their operations, but in most cases, it's not as obvious as seeing it in the yard or on the back of a truck. Across the United States, approximately 7.8...
Crude is a pretty general term people give to oil, and it's easy just to dismiss it as such, but to understand what people mean when they talk about oil honestly, it's important to know that there are different types of crude oil and each is produced, transported, refined and used in all sorts of ways. Essentially there are four main types of oil – very light oils, light oils, medium oils, and heavy fuel oils. Most of what Line...
MOVING MICHIGAN FORWARD TOGETHER
It is critical that Line 5 is replaced and upgraded to continue to meet the energy needs for families, seniors, households, motorists, and businesses across the state.
Building the Line 5 tunnel will move Michigan forward by sustaining our environment and protecting our communities.  The Line 5 tunnel will ensure that families and businesses across our state will not face substantial increases in transportation costs and be able to affordably and reliably heat their homes during the winter.
Join Michiganders from across the state as we work together to move Michigan forward and modernize our energy infrastructure.